नंदकिशोर आचार्य / Nandkishore Acharya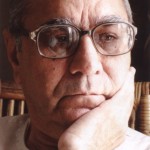 (Photo: Om Thanvi)
Born on 31st August 1945 in Bikaner, poet, critic, playwright and Gandhian commentator Nand Kishore Acharaya is presently Writer-in-residence at the Prakrit Bharati Academy, Jaipur. He was also a Writer-in-residence at the Mahatma Gandhi International Hindi University for five years.
A poet of the fourth Saptak, Acharya has published seven collections of poetry, six books in literary criticism and three collections of plays. His books on Gandhian philosophy include Sabhyata ka Vikalp and Satyagrah ki Sanskriti.
He has translated poets like Joseph Brodsky, Lorca, Vladimir Holan and Riyokan into Hindi, besides translating Arnold Wesker's play Four Seasons.
His awards include Meera Puraskar, Bihari Puraskar and Bhubaneshwar Puraskar.
Nandkishore Acharya at Pratilipi