वरुण / Varun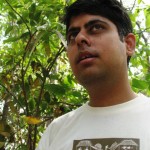 Varun is a Civil Engineer (IT-BHU, Varanasi) turned software engineer turned script-writer specializing in socio-political satires for TV shows like The Great Indian Comedy Show (Star One), Aisi ki Taisi (Aaj Tak) and Ranveer Vinay aur Kaun (Star One).
Most of his writing inspiration flows from observing popular culture, man's relationship with living spaces, and the life he left behind in Lucknow and Varanasi.
"Danube ke Patthar" is his first published story.
Varun at Pratilipi