तरुण भारतीय / Tarun Bhartiya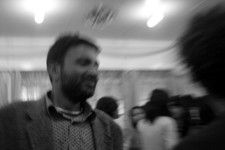 Shillong-based Maithil filmmaker and political activist, Tarun writes poetry in Hindi and has translated North East poetry into Hindi and English.
His poems have appeared in Hans, Samkaleen Bharatiya Sahitya, Pahal, Akshar Parva, Sakshatkaar and were included in Sahmat's poetry collection Das Baras and some of them have been translated into Bangla and Punjabi.
His translations have appeared in the Anthology of Contemporary Poetry from North East (NEHU, 2003) and Sarai Reader-4.
at Pratilipi
इम्फाल, शिलाँग और अगरतला से छह कवि (Translator)