सारा राय / Sara Rai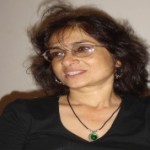 Sara Rai is a writer who lives in Allahabad and in Delhi. She has written two collections of short stories in Hindi with the titles "Ababeel ki Uraan" and "Biyabaan Mein", both of which have been published by Rajkamal Prakashan. She has edited and translated from Hindi two collections of short stories in English, "The Golden Waist-Chain", published by Penguin India and "Hindi" published by Katha, in addition to a third collection, "Imaging the Other" that she co-edited for Katha.
She has had a Charles Wallace residency at the University of East Anglia, U.K. in 2003 and has also been to Tokyo and Yamagata as a participant in the Japan-India Writers' Caravan 2003.
She has won the Katha Award for translation twice and the A.K. Ramanujan Award for being able to work comfortably in three languages, Hindi, Urdu and English.
At present she is working on a novel.
Sara Rai at Pratilipi
The Empty Space (Translator)