कृष्ण बलदेव वैद / Krishna Baldev Vaid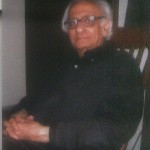 Infamous for breaking every rule in Hindi and famous for not winning prizes, Hindi's most (obstinately) experimental fiction writer K.B. Vaid was born in 1927 in Dinga (now in Pakistan). He was educated in India (Master's in English from Punjab University) and the USA (Ph.D from Harvard) and has taught at Delhi University, Punjab University, Brandeis University, and State University of New York. He has published about forty books – novels, short stories, plays, essays, diaries, and has translated some of his novels into English.
He now lives in Delhi.
Krishna Baldev Vaid at Pratilipi