इंदिरा गोस्वामी / Indira Goswami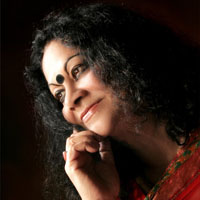 Indira Goswami, popularly known as Mamoni Raisom Goswami is one of the most celebrated writers in India. Born in 1942 she has published several creative and sholarly works in Assamese and English. "The Moth Eaten Howdah of a Tusker", regarded as a classic in Assamese literature and excerpted in Masterpieces of Indian Literature (Sahitya Akademi) is a novel about the plight of Brahmin widows in Sattras of Assam; "The Blue Necked Braja" is perhaps the first novel written on the plight of Hindu widows popularly known as Radheswamis in Vrindavan; "Pages Stained with Blood" is a first person account of the Sikh-riots of 1984 in Delhi; "The Man from Chinnamasta", is her most controversial and subversive novel which is a protest against the practice of animal sacrifice in the ancient Kamakhya Temple, in Guwahati, Assam; "Pain and Flesh" is her only published poetry collection in English. She is currently busy with a new novel based on a Bodo woman who took up arms against the British.
She has been honored with the Sahitya Akademi Award in 1983 for the novel "The Rusted Sword", Assam Sahitya Sabha Award 1988, Bharat Nirman Award 1989, Sauhardya Award from Uttar Pradesh Hindi Sansthan of Government of India 1992, Katha National Award for Literature 1993, Kamal Kumari Foundation National Award 1996 and in the year 2000 she won the country's highest literary prize the Jnanpith Award. She has honorary D.Lit. degrees from several universities like Indira Gandhi National Open University, Rabindra Bharati University and Rajiv Gandhi University Arunachal Pradesh. For her unparalleled scholarly work in the field of Ramayani Studies she was awarded the International Tulsi Award from Florida University. Her ongoing pioneering efforts to bring peace in Assam through her crucial role in the peace talks between banned militant outfit ULFA and the Indian Government has brought a ray of hope to the twenty-eight-year violence-ridden atmosphere of the state.
"Words from the Mist" directed by Jahnu Barua is one of the many biographical films made on her eventful life.
In 2008, she became India's first Principal Prince Claus Laureate.
Indira Goswami at Pratilipi