Stained with Blood: An Interview With Indira Goswami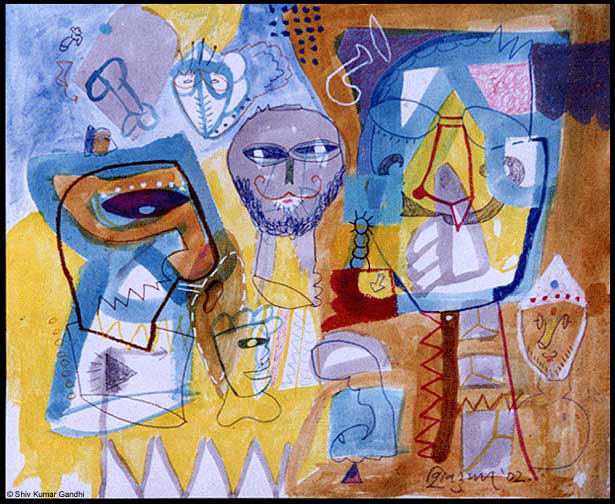 Aruni Kashyap: Your novel Pages Stained with Blood is set during the anti-Sikh riots in Delhi, after the killing of Indira Gandhi. Was that your first encouter with terror and brutality by people on fellow men?
Indira Goswami: I had seen something more horrible than terrorism and rioting before the Sikh riots. I had seen terrible poverty with my naked eyes, how people die each day little by little, and how cruel people could be in everyday life. It's worse than death, its worse than dying in a riot, or in a bomb blast.
I was in Vrindavan, which is called the City of Lord Krishna, after my husband's death. My novel The Blue-necked Braja is an exact picture of what I saw in Vrindavan. Hindu widows swarmed the whole city then. Most of them were Hindu widows from Bangladesh and their plight was so terrible that you won't believe until you saw it with your own eyes. There, I saw how cruel human beings can be to other human beings and it was taken so normally that I would call its worse than the feeling of terror. There were around 5000 widows there. From East Pakistan they came from areas such as Dinajpur, Bakura, Rajshahi, etc. They lived in abandoned dark khupris: these were small chambers in temples, impossible to inhabit. When I had to go in, I would use a torch to find my way during the day itself. It couldn't believe that people could live in such conditions. Pehaps those tiny chambers were suitable only for ghosts. Those widows were deserted by their family members and I was shocked to see how cruel your own relatives, your own parents could be to let you live in such inhuman conditions. It's worse than terror. Something so close to you turns so unpredictable, unsafe and unreliable.
And do you know how were these widows treated after they died? The owners of these khupris threw them out into the streets because they didn't want to conduct their funeral rites. Hindu shraddha and all are still slightly expensive. These bodies were carried away by the zamadars.
AK: And then?
IG: They used throw them into the Jamuna river.
But not all people in Vrindavan were evil. Most of them were very dharmabhiru, god-fearing. But a lot of outsiders came like vultures. They imposted as pandas from Vrindavan and took the poor widows into trust, asked them to deposit all the money that they had, or earned by begging with them. The women there had nothing to live for, but only die in the City of God and wished to be cremated according to the Vedic rituals. They kept saving money all their life only for that, hoping that their dead bodies would be found with some money tied to their aanchal and the people will cremate them, do the last rites. These fake-paandas and agents would soon vanish with all the money and most of the time they never turned up when the widow who trusted in them died. These were all outsiders. Nobody knew from where they came from.
But these incidents are just the tip of the iceberg. I had seen more brutal heart-wrenching things. My teacher Dr. Lekharu used to live in Vrindavan then, who was doing research work on Oriental Studies. I used to walk around with him and sometimes we would come across a widow sleeping on the road with her bag and baggage. Sir told me those were widows driven out of the tiny cramped khupris where they lived due to non-payment of rent. It was horrible, frigtening, and often more than tragic to see human beings in such conditions.
I was very distrurbed when the Sikh riots happened, but somehow I had learnt that human beings could be really very cruel to each other. That was not the first time I encountered the brutal nature of men. Later, I heard something more unnerving from the people there that one of the MLAs was asked to do something for the widows there and he said that it was not his problem, it was Bengal's problem. There was no hope, it seemed.
AK: Your novel is written is first person. Pages Stained With Blood…
IG: That's because I wrote exactly what I saw and most of it is true. It was so horrible and shocking that I couldn't exaggerate anything further. The novel is more of a documentation of what I saw.
AK: So you went to the riot sites as the female-narrator, who was a lecturer in Delhi University, did in the novel?
IG: Of course. I went to the ravaged sites and saw a lot of incidents standing in my balcony, or from the window of my room, feeling very helpless. I used to work as a lecturer in Delhi University then. I was very young, used to live entirely alone in Shakti Nagar, North Campus. It was very difficult since I knew that I couldn't do much to stop it. I wanted to go and meet the victims. The landlord, I mean the owner of the house I rented was a very caring person and wouldn't allow me to go. Rule 144 was announced and many people couldn't assemble in one place.
You know, there was shoe shop owned by a Sikh near my house. A lot of people came out from the slums nearby and looted it. I saw small children playing with those shoes. They wore large shoes in their small feet and walked around laughing and playing with them. Large stacks of shoes were carried away from that shop. From my balcony, I also saw four men carrying a fridge from somewhere. They must have looted it from someone's house.
AK: How did you go finally, if your friends advised against it?
IG: I went with two of my students who volunteered to accompany me. I carried ten thousand rupees with me, so that I could distribute among the people in need. I couldn't take more than that. That's all I had at that time and how much did a lecturer earn during those days? I wanted to help alone in my own small ways. There were no taxis. Most of the taxiwallahs in our area were Sikhs, then. And some taxiwallahs were around, but they were not ready to go. Finally, one driver who knew me well agreed to drive us to the riot sites. He was Hindu. We went to Jahangirpuri in Delhi.
Jahangirpuri was a ruin that day and it was like a place ravaged by a big war. All the houses were burnt. Broken window panes. Glasses and clothes and tyres and burning motorcycles were lay scattered around the place. We couldn't see a single soul. We walked in further and saw a broken, looted Gurudwara, on top of which a madman was sitting and speaking gibberish. That was the only human voice from that place: his meaningless laughter and gibberish. The only house that stood there without a single scratch was the house of the MLA. But I wanted to talk to people, ask them what happened. And I was feeling very guilty, felt that I shouldn't have come there just because I was curious to know, to find out and tell others how brutal people could be to others.
AK: Did you manage to find anyone?
IG: After a while, I saw a man. A Sikh. He was sitting on a broken khatiya with his head resting on his hands. We went near him and he greeted us saying namaste. He told me that in every house in that colony one or more people had been killed. He suddenly went in and brought out three pagris and flung them across the khatiya. Two of them were his sons', the third one his own. Two of them were soaked in blood. That image still lingers on…
Very bad. Very bad it was. That place was so silent and it produced the atmosphere of graveyard. I met some more people inside, and their stories were so terrible that I could never write them and I don't want to remember them, too. Everyone had fled to the refugee camp. We went to the Sabji market. I had never seen so many widows together. All the riot victims were there and a lot of them were widows. I spoke to some of them and as I followed the papers in the following days, not much was written on the victims. A lot of facts and a lot of stories never reached the papers. People never got to know all the stories. You can't imagine how brutal they are…
AK: I think you have still managed to describe a lot of this in your novel.
IG: Yes, I wrote exactly what I saw. There is almost no difference between fact and fiction in that book…
I still remember I was standing in my balcony; a Sikh man was pulled down from his bicycle and burnt down immediately…
After Indira Gandhi died, one of the politcal leaders came to that area and started shouting naras. Do you know what? Laash pari hain, tum log kyun so rahe hoon! Laash pari hain, tum log kyun so rahe hoon!