देसराज काली / Desraj Kali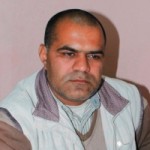 Born 1971, Desraj Kali has published 4 collections of short stories (Chanan Di Leek, Kath-Kali, Phaqiri and Chup Kitey), 6 novels (Parneshwari, Antheen, Paratham Pauran, Shanti Parav, Nar Natak and Thumri). He edits the magazine Pancham and has directed the documentary Kite Mil Ve Mahi, besides publishing numerous research papers on the Ghadar movement, the literature and culture of Punjab and on Dalit issues.
Desraj Kali is Pratilipi's Language Consultant for Panjabi.
Desraj Kali at Pratilipi