विष्णु खरे / Vishnu Khare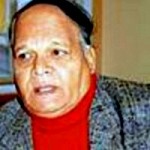 Born 1940, poet, translator and critic Vishnu Khare has published five collections of poetry, Pathantar (2008) being the latest, and a book of criticism Alochana kee Pahlee Kitaab. He has been a prolific translator in Hindi, English, German and other European and Asian languages. Book-length English collections of Hindi poets Shrikant Verma and Bharat Bhushan Agrawal, a collection of Hindi poetry in German (with Lothar Lutse), collections of Nottebaum, Czeslaw Milosz, Wyslawa Szymborska and Miklos Radnoti in Hindi, and Finland's national epic Kalewala in Hindi are some of his published translations. Goethe's Faust in Hindi is his latest translation, to be published soon.
Khare began as his career as a college teacher (1963-75), served as Sahitya Akademi's Deputy Secretary (1976-84), and ended a journalist at Nav Bharat Times (1985-1993).
A member of the Sahitya Akademi, Kalewala Society and UNESCO's Cultural Commission on India, he has been awarded Finland's national honor Knight of the Order of the White Rose, Rahguveer Sahay Samman, Maithilisharan Gupt Samman, and Hindi Akademi, Delhi's highest honor, the Shikhar Samman.
Widely traveled, he has also written art and cinema criticism for Nav Bharat Times, The Pioneer, The Hindustan Times and Frontline. Presently he is writing a film for his son. He lives in Delhi.
Vishnu Khare at Pratilipi