विनोद कुमार शुक्ल / Vinod Kumar Shukla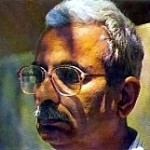 Vinod Kumar Shukla was born on 1 January 1937 in Rajnandgaon, Madhya Pradesh. Publications include three novels – Naukar Ki Kameez (1979), which was made into a movie by Mani Kaul), Khilega To Dekhenge and Deewar Mein Ek Khirkee Rahati Thi – the short story collection Per Par Kamra (1988) and the collections of poetry Lagbhag Jai Hind (1971), Vah Aadmi Chala Gaya Naya Garam Coat Pehankar Vichar Ki Tarah  (1981), Sab Kuch Hona Bacha Rahega (1992) and Atirikt Nahin (2002).
Awards include the the Dayavati Mody Kavi Shekhar Samman, the Shikhar Samman, the Muktibodh Fellowship and the Sahitya Akademi Award in 1999 for Deewar Mein Ek Khirkee Rahati Thi.
Currently lives in Raipur, Chhattisgarh.
(Photo courtesy Poetry International Web.)
Vinod Kumar Shukla at Pratilipi