उद्दीपना गोस्वामी / Uddipana Goswami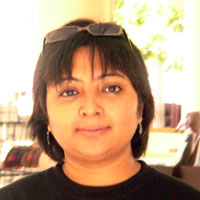 Uddipana Goswami is from Assam in Northeast India, a region of rich indigenous cultures but also of insurgency, ethnic conflicts and consequent militarization, all of which informs her writings. She is Assamese literature editor of Muse India, a literary e-journal.
Her creative works have been published in the journals Etchings (Australia), Chandrabhaga (India), Muse India (India), The Other Voices International Project (online), Geometer (UK online), XCP Streetnotes (online). Her poetry has also appeared in Tonight: An Anthology of World Love Poetry (South Africa).
When not writing poetry, Uddipana is a media consultant, researcher and translator.
For more: www.jajabori-mon.blogspot.com.
Uddipana Goswami at Pratilipi