उदयन वाजपेयी / Udayan Vajpeyi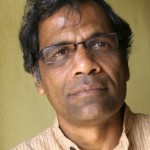 Born 1960. Hindi poet, essayist, short fiction and script writer. He has published two volumes of poetry, a short story collection, a book of essays and other miscellaneous publications (including a book of recreated folktales and an account of an extended conversation with  filmmaker Mani Kaul). His work has been translated into Bengali, Tamil, Oriya, Kannada, English, French, Swedish, Polish and Bulgarian. He teaches Physiology at Gandhi Medical College, Bhopal.
He has translated works by Octavio Paz, Borges, Chekhov, Brodsky, Jaccottet, Tadeus Rozewicz, among others, into Hindi. He has been invited to various festivals in India and overseas, the most recent being a seminar on the folk imagination in Moscow and the International Book Fair in Paris in 2007. He has received various awards for his writing, including a Senior Fellowship from the Government of India (1994 – 96), the Krishna Baldev Award (2001) and the Raja Foundation Award (2003).
Udayan Vajpeyi at Pratilipi