ट्रिना निलीना बनर्जी / Trina Nileena Banerjee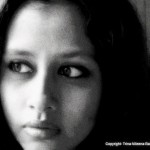 After completing her MA in English Literature from Jadavpur University, Trina Nileena Banerjee proceeded to complete a Masters of Studies (M St.) in English at the University of Oxford on a Felix Scholarship. Her specializations were Postcolonial Literature, British Modernism and Feminism. Writers Workshop published Trina's first book of poems Inside A Blue Corridor in 2001. She has been a freelance journalist since 2000, having written for The Statesman, The Asian Age and The Telegraph. She is currently a Doctoral Fellow at CSSS, Kolkata. Her thesis title is: Performance, Autonomy and the Politics of the Marginal: Women in the Group Theatre Movement in India (1950-2005).
Trina is also a theatre performer and director, having worked for more than ten years with Theatron. She has acted in the films Nisshabd (2005), Chinese Whispers (2007) and Chaturanga (2008).
Trina is Pratilipi's Langauage Consultant for Bengali.
Trina Banerjee at Pratilipi