The Cheat: Sharath Komarraju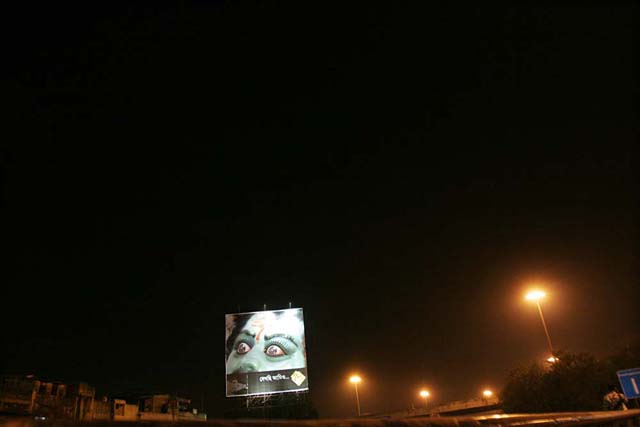 Swagata Das, at first glance, had a face that could only be adequately described as strictly ordinary. Her nose and mouth were undoubtedly meant for someone else – the former was too fat and the latter too flat. Her eyes tried valiantly to redeem the damage with their size and sparkle, but in spite of that, the overall impression was one of respectful dignity at best. She was not a beauty by any means.
But that was only as long as she didn't smile.
When she smiled, her lower lip somehow acquired a perfectly symmetrical curve, her seemingly lifeless cheekbones lifted themselves just enough to reveal a dimple on each side, and a warm glow entered her eyes. The nose still stayed the same, to be sure, but somehow it didn't matter. When she smiled, she became beautiful.
It was one of life's Great Mysteries for Gangadhar. Before he had met Swagata, he had only fleetingly heard of 'smiles that light up faces', but in the last twenty years, it had become his gospel truth. It was hard not to believe in something that stared at you right in the face every day.
He looked around the room. Sitting in his easy-chair with his arms resting on the sides was Aakash, with his mouth set in a half-smile, and next to him, sitting on a single sofa closer to the corner, Suresh Velayudhan was gazing at her from behind his glasses with unashamed admiration. Ashwati, who was sitting next to Swagata on the larger couch, looked mildly disinterested, but she was a woman. She wouldn't understand.
Gangadhar allowed himself a smug inward smile, content with the confirmation the men's faces provided him. No, it was not just he who thought Swagata's smile was beautiful. Everybody did.
***
Mr and Mrs Rishi Bharadwaj, it was plain to all from mere appearances alone, were what one wouldn't hesitate calling an odd couple. She had an Egyptian Queen style haircut which she constantly patted with both her hands; he had thin, greying hair that hugged his scalp. She wore a shiny purple sari on a black, sleeveless blouse; he wore a plain, biscuit-coloured shirt on an ash-coloured pair of pants. She was chubby; he was anaemic. She had a rich, flamboyant voice; his was barely above a whisper.
Mrs Bharadwaj had a presence. Mr Bharadwaj did not.
So it struck no one in the room as odd when Mrs Bharadwaj took the central couch in the room and her husband ambled over to the seat in the corner, right next to Suresh Velayudhan. He sat down with his hands clasped between his thighs, shoulders drooping.
"Call me Urvashi," Mrs Bharadwaj was saying in her rich, lilty voice. "I don't like being formal." She sucked in her bright red lips. And then, as an afterthought, she said, "My husband's name is Rishi."
A mutter and a smile emanated, separately, from Rishi's direction. Both quickly subsided.
"I had such a tiring day at school today," Urvashi said. Then she turned to her husband. "I don't know why I am getting so tired these days, Rishi. Do you think it's because of the diet?"
A shrug, this time, and a smile.
"I'm sure it is." She turned back to face the rest of the room. "Why, until last year, I didn't even have a leisure period, Swagata. Nowadays –" She finished with a resigned sigh.
Swagata nodded appreciatively.
Gangadhar said, "Are you a teacher?"
"We both are," she said, nodding at her husband. "I teach at Narendra High School."
"Kendriya Vidyalaya," Rishi whispered, almost apologetically.
The people in the room acknowledged that with a murmur of approval. Kendriya Vidyalaya, of course, was one of the biggest schools in the city.
"Rishi wants me to work at KV too," Urvashi said, "but I like Narendra. It's a small school, and I've gotten quite used to it. I have good colleagues, I like the students…"
Ashwati asked, "What subject do you teach?"
"Social Studies." She looked sideways in her husband's direction. "I think it's much better than teaching Maths."
Rishi snorted.
"I know Maths is all logical and all, but it's so hard to mark Social Studies exam papers. You simply have to read the whole answer." She threw a glance at Rishi. "Not as easy as looking at the final answer and giving marks."
A shrug, and a mere curving of the lips.
"I usually mark the best students' papers first. It puts me in a good mood. You couldn't imagine what some of the students write in their answers." Urvashi's hands involuntarily went to her hair and patted it tenderly. "Ah, but sometimes even smart students give you headaches. Like yesterday, I was marking the first unit test papers of Sixth, and as usual, I started marking Saurabh's paper."
Aakash said, "Saurabh is the best student in the class?"
"Oh," Urvashi said uncertainly. "Not the best. The best is usually a girl." Her eyes twinkled mischievously. "But I like him the best."
"Why so?" Aakash asked.
"Oh, the girls are smart, but they're so – well-behaved. I think kids that age should have a bit of naughtiness in them. Don't you think so?"
It was a rhetorical question, so Aakash didn't answer either way.
"I think so," Urvashi said almost immediately. "Saurabh is lively; he is naughty, yes, and I punish him sometimes, but he is such a delight to have around. All the teachers love him. And he gets good marks. Usually."
Gangadhar said, "Usually?"
"Yes, Social Studies is his weak subject. He is very strong in Maths." She shot another glance at her husband. "But he has never before failed a test like this time. The lowest he ever got in my subject was 75%." She lapsed into thought, and her hands rose to her hair once again. "I wonder if everything's okay. I will talk to him tomorrow."
"But that's not the only surprise," she continued. "After all, the boy has been getting near perfect marks for years now. He's due for a low score. But I couldn't understand how Varun got such high marks."
"Varun," Swagata said. "Is he one of the duller students in the class?"
"The dullest. He's failed two years already. His answers were a little too perfect, you know."
Gangadhar smoothed the edges of his kurta and started to say something, but deferred at the last moment.
"I know he cheated," Urvashi continued, her eyes flashing. "A teacher always knows, Mr Das. In subjects like mine, it's impossible to write perfect answers. Even students that get top marks get a fact wrong here, a year wrong there. But these answers were perfect, I tell you."
"He could have studied hard," Gangadhar said cautiously.
"But why just Social Studies? I checked his marks in the other subjects. He only barely passed the rest of them."
Gangadhar said, "Okay, but do you have any evidence to implicate him?"
Urvashi sighed in anger. "That's the problem. I have no way of proving that the boy cheated, but I am certain he did."
Swagata leant on the table and cradled her chin on her palm. "They talk of motive, means and opportunity. You're saying Varun had the motive. Did he have the means and the opportunity?"
"We-ll," Urvashi said, "it's a little complicated, because I don't even know how he cheated. I suppose I will have to tell you how it all happened. See, it's like this –"
Right at that instant, the rice cooker from the kitchen let out a shrill whistle, and Swagata rose from her chair and said, "Dinner?"
***
The packet of soan papdi went around the room, and everyone took a piece each. When it came back to her, Urvashi gingerly took one, broke it in half and left the remainder in the box. She took a bite and said, "I am trying to reduce."
No one said anything in response, and Gangadhar, sensing the need to change the subject, said softly, "Tell us about Varun, Urvashiji."
Urvashi swallowed the sweet and licked her lips. "Are you sure you won't get bored? I really do hate to be the only one talking."
A hissy chuckle escaped Rishi Bharadwaj's lips.
Urvashi thought for a while, playing absently with the tip of her sari. Then, she let it go with a decisive flick of her fingers and looked up. "See, if Varun cheated – and I am sure he did – he would have two options. One, he could have cheated during the exam, and two, he could have somehow got hold of the exam paper beforehand."
Gangadhar placed the sweet completely in his mouth and swallowed it. After rubbing his fingertips together and dusting them off, he said, "How foolproof are your exam conditions, Urvashiji? You mentioned your school is not a big one –"
"We take cheating of all forms very seriously, Mr Das," Urvashi said gravely. "Even more so than big schools, who sometimes hush up scandals to protect their reputations." She took care to avoid her husband's eyes as she said that.
Urvashi continued, "Our test conditions are absolutely foolproof. We have two teachers supervising each exam room, and we position students too far from one another to allow cheating on any large scale. Maybe little things like multiple choice answers which can be communicated through signals, but not much else."
Ashwati asked, "So this test was not a multiple choice test?"
"No," Urvashi said, "Social Studies never is. The paper was full of short and essay type questions, as usual."
Swagata said softly, as though wary of hurting Urvashi's feelings again, "And there is no chance of students smuggling in slips?"
"No, we search students' pockets and palms before they go into the hall. Besides, we have two teachers per hall, as I told you. It's not easy to copy even if you do manage to smuggle something in. Take it from me, Swagata, it is impossible to cheat in a test at our school."
Her husband added, "Except for the multiple choice questions."
Urvashi looked at him and her eyes grew bigger. "Of course, how much of a difference will a couple of multi-choice questions make, I ask you."
Gangadhar shrugged. "That's beside the point now. Your test didn't have any multiple choice questions." He reached out for the sweet box on the table and took a big piece, deliberately ignoring Swagata's gaze. Once back in his chair, he said, "So cheating in the exam hall is out. What about access to the question paper beforehand?"
Urvashi thought about it. "That is the only other possibility, but I've been racking my brains about it, Mr Das, and I have no idea how he did it. I only took the questions to school on one day, and I told no one – not one soul – where I kept it during that day. I cannot understand how he got his hands on it."
"Tell us more," Gangadhar urged.
Urvashi settled into her chair. Her voice acquired an even tone, as though she was reading off a book. She said, "It was just another school day, about a month and a half ago, in the first week back after the summer break. You have to understand our first unit tests – which I've been telling you about – occur only a month into the year, so we're encouraged to prepare early. You'd think week one is a bit too early to start preparing question papers, but when there are five classes you have to do, it's better to start early.
"So the night before, I'd written down the questions I decided would be in the first Social Studies unit test for the sixth standard and, wanting to go over them during leisure time at school the next day, put it in my handbag.
"But that morning I got delayed a little bit because I forgot to take my portable table-fan to school. That might sound like a silly reason, but you know how horribly hot the summer has been this year, and as if that were not enough, my desk in the staffroom is bang in the middle of one edge of the room. We have twelve teachers, and six tables along each edge. You cannot even see the ceiling fan from there. I tell you, it's impossible without a portable fan."
She crossed one of her legs over the other and clasped her hands on her knee. "So that morning, I'd gone all the way to the bus-stop before I realized I forgot my fan, so I had to go back home to get it. It was all a little bit pointless at the end because by the time I'd reached school, the first period was nearly over, and that was my only leisure period for the day.
"I literally had just enough time to go to the staffroom, say hello to the junior social studies teacher who was on her free time, drop my handbag, hide the sheet of paper inside my register and walk out to take my class. On my way out, I noticed that Mrs Mehta's desk – which is next to mine – was empty and the register was not on it. Mrs Mehta is our senior Hindi teacher, and she is an absentminded soul – always forgetting her register, forgetting names, misplacing her things – you know. But that day she had remembered to take her register with her to her class."
"You remember things in excellent clarity, Urvashiji," Aakash remarked.
"Thank you," Urvashi gushed. "I do have a very long memory. Tell that to my husband, because he keeps arguing with me about incidents – incidents that I remember like they're happening in front of my eyes at that very moment. That clearly!"
He, of course, just smiled in reply.
Gangadhar prompted, "About that day, Urvashiji –"
"Oh, yes," Urvashi said. "After that, I took all my classes one by one and finished at the end of the sixth period. It was just one of those days where I kept forgetting which class I had to go to. You see, it was the first week back, and I had to keep referring to the timetable. It was such a pain! The old staffroom was right in the middle of the building with classes on either side, so it used to be a simple thing to check the timetable. But they changed our room to one edge of the building at the start of this year and it meant all of us had to keep walking up and down the corridor just to check our classes. It was horrible."
Ashwati asked, "Why didn't you write it down?"
"We never had to until last year because it was so convenient. But after one week of this nonsense, all of us wrote down our timetables."
Gangadhar scratched his forehead lightly. "You were telling us about the paper of questions."
"Yes, yes, the paper was in my register all day. Nobody knew it was there, not even Mrs Mehta. In fact, now that I think about it, I didn't even see her that day except at the end of the first period when I was going to my class. Mrs Mehta was returning to the staffroom to check her next class. We just said hello to each other.
"That night, I made a few corrections to the list of questions, and the next time I brought the list over to school was the day before the test." She paused in thought. "See, another point. The only questions Varun got wrong in his test were the ones I changed that night. So Varun must have somehow got the exam paper on that day."
Everyone kept silent, as if waiting for another torrent of words, but Urvashi said, "That's it. How could he have taken it without even knowing it existed?"
Aakash rested his elbows on the armrests of the easy-chair and slowly allowed his fingertips to touch. He said, "Urvashiji, maybe there is no mystery here. The dullest student in your class got high marks in his test. Isn't it possible that maybe – just maybe – he might have actually worked hard to get those marks?"
Urvashi shrugged, and then shook her head uncertainly. "No, I feel bad suspecting a student like this – trust me, I don't like it. But look at all the evidence."
Aakash said, "All circumstantial."
She pressed her lips together. "I know, but – but I just cannot shake the feeling off. Call it a teacher's intuition."
"Well then," Gangadhar said, facing Aakash, "let's assume you're right and see where that gets us." He folded his hands and inclined his head slightly at Urvashi. "Did you ask any of the teachers if they sent Varun to the staffroom that morning?"
Urvashi nodded. "I asked everyone today at lunchtime. Of course, I didn't ask our senior Kannada teacher because she was on leave that first week. Everyone else answered that they had not sent anyone to the staffroom during the day. And I am not surprised. In the last two years, I've never sent Varun on an errand. Not once."
Swagata said, "So if your Kannada teacher was on leave, then it means the class would have been unsupervised during that period. Would it have been possible for Varun to go to the staffroom during his English or Kannada class?"
"No," Urvashi said firmly. "When a teacher is not at school, one of us goes to the class and tells the class leader to supervise the class. It is usually done by the other teacher who has a leisure period at the same time." She looked around, and when she saw nothing but confused faces, she said, "Look, we have six junior teachers and six senior teachers – the junior teachers teach from classes I to V, the seniors teach from classes VI to X.
"The timetables for both sets of classes are identical, so during each period, one teacher from among the seniors and one teacher from among the juniors are always present in the staffroom. Moreover, they're always teachers of the same subject. It was designed so that we have something to talk about."
The people in the room, with the exception of Rishi Bharadwaj, nodded in understanding.
Gangadhar said, "What happens when both teachers who are free are on leave?"
Urvashi thought for a second. "It's hardly ever happened, but we will lock up our staffroom I suppose. I – I don't know. It's never happened."
"But that's irrelevant, isn't it?" Aakash put in smoothly. "There was only one free teacher on leave that day."
"Yes," Urvashi said.
"I was getting at something else," Gangadhar said. "What happens if one teacher is on leave, and the other, for whatever reason, is not in the room? Just like Urvashiji came late, what if there's another reason? Isn't it possible that the staffroom would be left empty in that case?"
Urvashi got lost in thought again. "It is possible, but I asked Mr Rao today. I met him outside just before his class and we got to talking about his grandson. He showed me his photo and told me story after story about how naughty he was. He's our junior Kannada teacher." She shook her head, smiling. "He was in no mood to stop talking, so I had to remind him that we were getting late. You see, he is an elderly man, so he has these eccentricities. But he is a nice man. A very nice man.
"Anyway, he assured me he was in the staffroom during the whole second period that day, correcting his papers, and he didn't see anyone come in. He had gone away for a minute to the unsupervised seventh standard – the Kannada class – to instruct the leader to mind the class, and he had been back in the staffroom immediately. In his own words, 'in a flash'."
Ashwati asked, "He was correcting his papers? Isn't he supposed to have done that during the break?"
Urvashi laughed and shook her head. "As I said, Mr Rao is one of our most experienced teachers, so the rules don't apply to him as strictly as they do to the rest of us. He has an excellent sense of humour too, and his classes are very popular among the kids. He is also a great teacher, needless to say."
"And yet he teaches the smaller classes?" Gangadhar asked.
"Nothing surprising about that if you knew the man. He loves kids, and he chose to teach the smaller classes."
Gangadhar nodded shortly, and just as he was about to ask a question, Aakash said, "Urvashiji, did you ask all your colleagues about this at the same time?"
A look of shock came over Urvashi's features. "Oh, no, I couldn't possibly. I had to ask each teacher in turn. I was particularly worried about Mrs Mehta. She is so absentminded, you know. I was afraid whether she would remember that far back. So today while we were walking back to the bus-stop after school, I asked her, 'Did you send Varun to the staffroom during the first week?' and she said, 'No, I never send Varun to run errands.' That's pretty much how it is with all of us."
Ashwati shook her head and grimaced. "Even if Varun did come to the staffroom, how did he know where the question paper was? Mrs Bharadwaj didn't tell anybody about the paper."
Gangadhar frowned. "So all the rest of the teachers said the same thing?"
Urvashi nodded. "Yup, none of the others sent anyone to the staffroom on that day. No student came anywhere near the staffroom on that day, from what my colleagues told me."
"Which period was Mrs Mehta's class that day?"
Urvashi narrowed her eyes and looked into the distance. "Let me see, the first period was my leisure, which means it was a Tuesday. And on Tuesdays, sixth standard has Hindi for their – second period." She nodded uncertainly at first, then more surely. "Yes, as I mentioned before, when I was going to my class after my leisure – the first period – I saw her walking back to the staffroom to check her timetable and leave her register. She would have gone to Varun's class immediately after that."
Gangadhar said, "To leave her register in the staffroom? Doesn't she need her register in all her classes?"
Urvashi said, "Well, you need the register to mark attendance, and she'd already had her class – the class to which she is the class teacher – in the first period, and since she was coming back to check her timetable anyway, she dropped it off. It's such a pain carrying it around. I do the same thing, except the class I am in charge of is the ninth standard, and on Tuesdays it's the third period."
Gangadhar asked, "So you took your register with you when you left the staffroom after the first period?"
"No, I came back after the second period to pick it up."
Aakash shook his head slowly once, then a second time more deliberately. "All of this is pointless. It's obvious the boy has come nowhere near the staffroom, and he didn't even know that there was a question paper inside the register. I think we have exhausted all possibilities, Urvashiji. Face it, the boy probably got lucky, or better still, maybe he has realized it's time to buckle down and study. This is not an occasion for you to be bothered. It's an occasion for you to rejoice."
Gangadhar put his hand up. "Wait," he said. Then, looking at the corner of the room where Suresh Velayudhan sat, he said, "Velu?"
Velayudhan's metallic voice filled the room. "I think all of you have asked very good questions. But I have one of my own. Can I ask you?" He looked nervously at Urvashi.
She nodded at him brightly.
"Are you confident that we can trust Mrs Mehta when she told you today that she had not sent anyone to the staffroom on that day?"
"Definitely," Urvashi said. "She didn't sound in the least doubtful of the answer. She told me flat out that she never sent Varun on errands, and you know, that's not that surprising. None of the teachers I know send Varun on errands to the staffroom at any time."
Suresh Velayudhan's nostrils twitched, and he pinched them hurriedly with his fingers. "I don't doubt there was anything wrong with the answer Mrs Mehta gave you, Madam, but I am wondering if the answer to all of this may lie in the question you asked her."
"Er – what do you mean?"
"With all your other colleagues, your question was whether they had sent anyone to the staffroom that day, while with Mrs Mehta, in your eagerness to guard against her absentmindedness, you asked her a more specific question – a question to which you got a more specific answer. You asked her if she had sent Varun to the staffroom that day, and sure enough, she said no.
"Now is it possible that she did send someone to the staffroom that morning? If not Varun, someone else? It's customary for teachers to use the smart aleck in the class as an errand boy, is it not?"
Urvashi looked puzzled for a second. "I don't know for sure, but I guess it's possible."
"Merely establishing a starting point," Velayudhan said, smiling disarmingly. "Now, this Varun, how is his friendship with Saurabh?"
"They don't get along very well. Once again, it's not surprising. It's perfectly normal for slower kids to be socially restrained, especially with the smarter students. They have a constant inferiority complex, not to mention jealousy. The smart students, on the other hand, are very outgoing and make friends quickly. So if Saurabh and Varun are not friends, I would say it's more Varun's fault than Saurabh's. Besides, Saurabh gets along very well with everyone in the class but Varun."
Velayudhan nodded. "Okay. I have one more question. Does your staffroom have a photocopier?"
"I don't see how – yes, yes we do. In fact, it was installed on the first day of the year, in the new staffroom."
Velayudhan's voice grew a bit more confident. "This reminds me a bit of my younger days, actually. I used to be first in my class, and all the teachers, of course, liked me." He blushed a little. "But maybe it's a curse all smart students have to bear when they're in school. They find themselves the centre of attention."
"If you're suggesting Saurabh is arrogant, I can assure you nothing could be further from the truth."
"I am sure he's not." Velayudhan's voice grew more screechy. "But kids who're used to everyone liking them don't find it particularly easy to understand that there are always going to be exceptions. They will understand after they grow up, but when they're young – 12, 13 – they want to please. They want to please everybody; especially those they know don't like them." His eyes grew dreamy, as though he was recounting a personal story. "It's not unlike the story of the singer who fretted so much over the one grim-faced member of the audience in the first row that the applause of the rest of the hall did not matter a jot."
Urvashi sighed impatiently. "I don't understand what you're trying to say."
"I am saying that at the very beginning of period 2 on that day, Mrs Mehta sent Saurabh to the staffroom."
Urvashi stopped. "It's possible, but Mr Rao didn't see him. He was there all the time, remember?"
"Ah, but Mr Rao had to go to the seventh standard at the start of the period because the senior Kannada teacher was on leave. He had to tell the class leader to mind the class. Suppose Saurabh entered the staffroom at the exact time when Mr Rao was out?"
Gangadhar shook his head. "Even if we allow for the coincidence, what if he did? Saurabh didn't know where the paper was kept."
Velayudhan said, "I know. I am not accusing Saurabh of anything. He must have come to the staffroom, sent by Mrs Mehta, and in he walked, noticing only fleetingly that the room was empty."
"Then he walked to my desk, opened the register and took the paper?"
Velayudhan smiled. "Pretty much, but look at it this way. Mrs Mehta, at the end of her first period, came back to the staffroom to leave her register on her desk. Your register was on your desk too, which you picked up at the end of period 3. Right?"
"Yes, that's right."
"So throughout the second period, both the registers were on your respective desks?"
"Yes."
"Now suppose Mrs Mehta forgets something in her register, something that she needs in period two. She goes to her class, realizes she doesn't have it, and she has to send Saurabh to get it."
Urvashi's face clouded a touch. "She forgets her red pen in her register sometimes." She paused. "Even I do it sometimes."
"There. We can go a bit further with this, then. Mrs Mehta marks her attendance in the first period, and puts her red marking pen inside the register. At the end of the class, she leaves the register on her staffroom desk with the pen inside it. When she goes to her second period, she realizes almost immediately that she has no red pen, so she sends Saurabh to get it from her desk, with clear instructions on where to find it. This would have coincided with Mr Rao being away from the staffroom because it was right at the start of the period."
"But Saurabh would have gone to Mrs Mehta's desk, not Urvashiji's desk," Aakash said.
Velayudhan nodded and clacked his fingers. "Mrs Mehta and Madam's desks are located in the middle along the edge of six desks. Right, Madam?"
"Yes, there are six desks on each edge."
"When complaining about the fan in the room, Madam mentioned that she sat in the middle of the edge, next to Mrs Mehta. So presumably, her desk was desk number three, and Mrs Mehta's was desk number four."
Gangadhar said, "Depending on which end you count from."
"Depending on," Velayudhan repeated, "which end you count from. So suppose Mrs Mehta had said 'Get the pen inside the register on the fourth desk'– not inconceivable for a teacher renowned to be absentminded – she would be counting from one end, and Saurabh, through no fault of his own, assumed she was counting from the other end and ended up at Urvashiji's desk, and you know how these attendance registers are – so similar to one another in appearance."
Ashwati said, "One would think for such a regular errand boy, he would know where his teachers sat in the staffroom."
"He would have," Velayudhan said quietly, "if the staffroom had not been a new one. This happened, remember, in the first week of the year, and the staffroom had just moved from the middle of the building to one of the edges."
Urvashi shook her head again. "Even if we allow all of this to be true, aren't we all forgetting something? This is Saurabh, and the boy who got the highest mark was Varun. Are you saying Saurabh gave the question paper to Varun without taking a peek at it himself?"
Velayudhan smiled gently. "You underestimate the power of the curse, Urvashiji. Saurabh is an honest fellow. When he accidentally opened your register and found the question paper, he immediately knew what it was, and he probably wanted to put it back. But he also saw an opportunity – an opportunity to win over the one boy in class that refused to be won over by his charms. So he took the paper out, photocopied it, replaced your sheet, took Mrs Mehta's pen out of her register and left–"
"All this," Gangadhar interrupted, "in the 'flash' it took Mr Rao to come back?"
"Mr Rao is someone, according to Madam, who teaches for the love of teaching. He's popular in school, he loves kids, he is talkative – remember how Madam had to pull herself out of the conversation about his grandson – and he must have seen a few familiar faces in that seventh standard classroom; kids to whom he had taught Kannada over five years. It's likely – in fact I think it's highly likely that he stayed back at the classroom for a little longer than a 'flash'."
Gangadhar sighed. "You're clutching at straws, Velu."
"I am simply," Velayudhan said, pinching his nose, "theorizing about how it could have happened."
Aakash asked, "Why do you believe it is Saurabh that Mrs Mehta sent on the errand? He's not the only smart student in the class. Isn't it equally possible that she sent another student?"
"Of course, but in this story, there are two incidents that have to be explained. One is why Varun got the high mark, and the second is why Saurabh, a generally bright student, got a low one."
Urvashi said, "You're going to say Saurabh got a low mark because he didn't look at the questions? That won't wash, because Saurabh doesn't need to see the questions to get a high mark!" Her voice had a distinct maternal tinge to it.
"I am not going to say Saurabh did not look at the questions at all. He didn't on the day of the theft, but when Varun gives the sheet back to him – the next day, perhaps – and suggests coyly that Saurabh should copy the questions too and that it would increase his chances of getting that elusive first rank – remember Urvashiji telling us her pet was not the best in the class? – he gives in to temptation."
"But even then," Swagata said, "if he did look at the questions, how come he barely passed?"
Velayudhan sighed sadly. "Young Saurabh has learnt, Mrs Das, that you cannot buy friendship. It's a valuable lesson, very much worth the low mark he got in the test."
Swagata said, "But I don't understand."
Velyudhan said, "It's quite simple if you consider Varun's feelings towards Saurabh. Madam is right. Slow students are generally consumed by envy towards their smarter classmates. He didn't give the original question paper back to Saurabh. He gave him a different one which he wrote up. For once, he had a chance to get back at the smart know-it-all in the class, and he took it. Loyalty is as rare in kids as it is in adults."
Gangadhar raised an eyebrow sceptically. "But Velu, Urvashiji said she had written down the questions, presumably in her own handwriting. Are you saying Varun forged her writing?"
Velayudhan smiled. "He might have, but I think the actual answer is a bit simpler. These days, the word 'writing' has lost its true meaning. It has come to almost always mean 'typing'. So I am going to assume that when Urvashiji said she had 'written' up the questions, what she really meant was that she typed up a list of questions and brought the printed sheet to the school." He glanced inquiringly at Urvashi.
Urvashi thought intently for a while. She said eventually, "You know, Mr –"
"Suresh," Velayudhan stammered. "Suresh Velayudhan."
"Mr Velayudhan. I've thought about this long and hard, and I've never come across any solution that satisfied me. Yours doesn't satisfy me either, but I have to admit it's the best of all the theories I've been able to think up. It's the only one that explains everything as it happened."
Velayudhan received the compliment with a nervous, involuntary twitch.
Urvashi took out her phone and punched in a number. She walked out of the room, speaking into the earpiece, and for the next five minutes, all the people in the room could hear was her muffled voice at irregular intervals.
At the end of the conversation, she re-entered the room. "That was Mrs Mehta," she said. "Apparently she did forget her pen in her register that day." She sat down. "And apparently she did send Saurabh to the staffroom to get it back." Her eyes blazed, more in disappointment than in anger. "I am going to punish him tomorrow," she said.
"I hope you don't forget to punish Varun, Madam," Velayudhan said. "Because Saurabh, I feel, has already got his punishment." He then craned his neck at the box of soan papdi on the table and asked bashfully, "Is there any more sweet left?"