श्रुतिमाला दुआरा / Srutimala Duara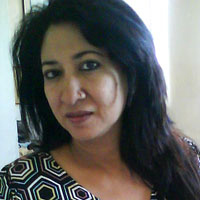 Dr. Srutimala Duara writes in Assamese and English and has numerous short-story collections – "The Sunset Hour and Other Stories", "Waiting for the Last Breath", "The Jhoolan Evening" in English, and "Maan Gahanat", "Sadhukathar Desh", "Sadhukathar Bagicha", "Sadhukathar Topola" in Assamese – to her credit, as well as three novels in English – "Ashes in the Seas", "Maya's Party" and "Traveling with Dreams".
She has also written extensively for the newspapers The Times of India, The Assam Tribune, The North East Times and The Sentinel. She was an Announcer in Doordarshan Kendra, Guwahati from 1986-2004, and has been a radio drama artist since 1981, having acted in more than 50 plays. She has also acted in television plays, serials and stage plays and written scripts for television documentaries.
At present she works as a lecturer in English in Handique Girls' College, Guwahati.
Srutimala Duara at Pratilipi