श्रीधर/थायिल / Sridhar/Thayil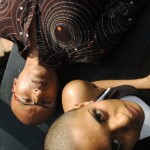 Jeet Thayil is a performance poet, songwriter, and author of four books including 'These Errors are Correct' (Tranquebar, 2008). Jeet has performed at venues as diverse as the Kala Ghoda Arts Festival (Mumbai), the Knitting Factory (NYC), and the Edinborough Book Festival (UK); and with bands such as Atomic forest, Crosswinds, Chronic Blues Band (India) and Bombay Down (NYC). His TV and audio programs have aired on CNN-IBN and All India Radio.
Suman Sridhar is a singer, actor, and songwriter. She grew up in Mumbai with Carnatic and Hindustani classical music and is trained in Western classical music (NJ). She directed and produced 'Yoni Ki Baat' in NJ, USA, where she sang with several jazz bands. Her vocals appear on independent albums including 'Bliss Beyond' (Earth Tones Music, 2005). On stage, she has appeared in musicals such as My Fair Lady (USA) and Exit the King (India).
Sridhar/Thayil has performed live at the Galle Festival, Sri Lanka, the International Blues and Jazz Festival, Bangalore, Delhi and Mumbai. Forthcoming shows are at the SAMA festival, Newcastle (Oct. 10th), and Shaking Spears, London (Oct. 15th). They are working on their debut album.
Sridhar/Thayil at Pratilipi