शीन काफ़ निज़ाम / Sheen Kaaf Nizam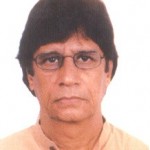 Born 1947, Urdu poet and critic Sheen Kaaf Nizam has published Lamhon kee Saleeb, Dasht mein Dariya, Naad, Saya Koi Lamba na Tha, Bayazein Kho Gayi Hai and many other collections and anthologies.
He has also published a book in criticism Lafz dar Lafz, and a book on fellow poet Makhmur Saidi. He has edited many Devnagari volumes of poets like Wazir Agha, Nida Fazli, Makhmur Saidi, Kumar Pashi, Muhammad Alwi and others besides editing Deewan-e-Ghalib and Deewan-e-Mir. 
He has been honoured with many prizes including the Iqbal Samman (2006), Bhasa Bharti Samman, the Urdu Akademi Award, and the Begum Akhtar Award.
Lives in Jodhpur.
Sheen Kaaf Nizam at Pratilipi