सारनाथ बनर्जी / Sarnath Banerjee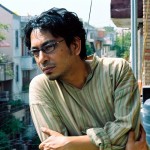 After getting a degree in biochemistry, Sarnath Banerjee received an MA in Image and communication from Goldsmiths College.
He wrote Corridor, India's first graphic novel published by Penguin (India)and Vertige Graphics (France). His second novel Barn Owl's Wondrous Capers, on the scandals of 18th century Calcutta was published in 2007 by Penguin (India) and Denoel (France). He has received several fellowships, such as the MacArthur Fund, Indian Foundation for Arts, Charles Wallace Trust Award, Egide Bursary in Paris, fellow Akademie Schloss Solitude, Stuttgart and recently was a fellow of Institute of Advanced Studies, Budapest.
Sarnath Banerjee runs a publishing house, Phantomville, that exclusively publishes graphic novels. He is currently exploring crossover of media including video, performance, murals and graphic novels.
Sarnath Banerjee at Pratilipi