समर्थ वशिष्ठ / Samartha Vashishtha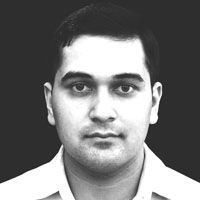 Samartha Vashishtha (b. 1983) is a bilingual poet writing in Hindi and English. He has published two poetry books in English so far and has contributed poems to leading magazines like Indian Literature, Chandrabhaga and The Journal of Literary Aesthetics. His work in Hindi has appeared in major magazines like Pahal and Vartaman Sahitya from time to time.
An online anthology of his English poems is at http://www.samartha.tk.
His Hindi blog at http://samarthav.blogspot.com draws a significant readership.
Samartha Vashishtha at Pratilipi