राबर्ट ए. हक्स्टेड / Robert A. Hueckstedt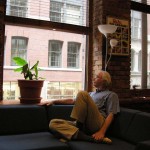 Robert A. Hueckstedt teaches Hindi, Urdu and Sanskrit at the University of Virginia. His translations from Hindi have appeared in Concerning Poetry, raddle moon, Pig Iron, Paintbrush, Indian Literature and Nimrod. The Hunted, his translation of Mudra Rakshasa' novel Dandavidhaan was published in 1992 by Penguin Books India.
His  recent translations from Hindi are two short story collections of Uday Prakash, Rage Revelry and Romance and Short Shorts Long Shots. He is currently working on a translation of the novella Hariya Hercules ki hairani by Manohar Shyam Joshi.
Robert A. Hueckstedt at Pratilipi
Exiled from Poetry and Country: Uday Prakash(Translator)
Between Tongue and Blood: Krishna Mohan Jha(Translator)