पुरुषोत्तम अग्रवाल / Purushottam Agrawal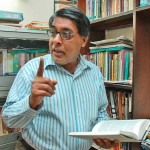 Literary critic, political commentator, academician, activist and poet Purushottam Agrawal has authored six books that include Teesra Rukh, Sankriti: Varchasva aur Pratirodh, Vichar Ka Anant, Nij Brahma Vichar and Kabir: Sabad aur Saakhi . His awards include Devi Shankar Avasthi Puraskar and Mukutdhar Pandey Smruti Puraskar.
Formerly Chairperson, Centre of Indian Languages, SLL & CS, Jawaharlal Nehru University, New Delhi, Purushottam is currently a member of the Union Public Service Commission of India.
Purushottam Agrawal at Pratilipi