प्रयाग शुक्ल / Prayag Shukla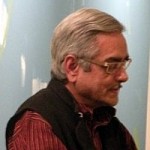 Poet, art critic and fiction writer Prayag Shukla was born in Kolkata in 1940. He has published nine poetry books, five collections of short stories, three novels, a book on art appreciation, Dekhna, and a book on Satyajit Roy, Ek Filmkaar kee Oonchai. He has edited Drawing-93, Drawing-94, Rang Tendulkar (on Marathi playwright Vijay Tendulkar), Kavita Nadee (a book of poetry on rivers) and the special Kashi issue of the Hindi magazine Kalpana.  He also writes for children.
He has translated Bangla poets Jibananda Das and Shankh Ghosh, as well as Rabindranath Thakur's Geetanjali into Hindi.
Beginning his career at Kalpana, he also worked at Dinman and Nav Bharat Times's editorial departments. Presently he is the editor of the Hindi journal of the National School of Drama, Rang Prasang.
Hindi representative at Iowa Writing Program in 1984, he has also toured France, Britain, Germany, Russia and China.
His awards include Sahitya Akademi's translation prize, Dilli Akademi's Kruti Award and Dwijdev Samman.
Prayag Shukla at Pratilipi