पंकज चतुर्वेदी / Pankaj Chaturvedi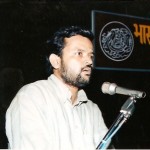 Born 24 August, 1971, in Itawa, Uttar Pradesh. Graduated from Lucknow University (1992) and went on to do his M.A. (1994) and M.Phil. (1996) in Hindi from Jawaharlal Nehru University, New Delhi. Has been teaching Hindi at V.S.S.D. PG College, Kanpur, since 1996.
He has published two collections of poetry – Ek Sampoornta Ke Liye (1998, Aadhar Prakashan) and Ek Hi Chehra (2006, Vani Prakashan) – and a book of criticism – Aatmakatha Ki Sanskriti (2003, Vani Prakashan).
He was awarded the Bharat Bhushan Smriti Puraskar in 1994, and the Devishankar Awasthi Award for criticism in 2003.
Pankaj Chaturvedi at Pratilipi
वाणी का भूषण: भर्तृहरि (Trans-creator)