नीटू दास / Nitoo Das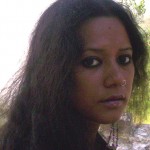 Nitoo Das teaches English at Indraprastha College for Women, University of Delhi. She was born in Guwahati, but came to Delhi in 1994 for her higher studies and decided to stay on and learn various survival skills in this ancient city. Her PhD dealt with constructions of the Assamese Identity under the British (1826-1920). Das runs a blog, which she began as an experiment four years ago while working on a research project (with Sarai, CSDS) on poetry as hypertext. Her
interests include fractals, caricatures, comic books, horror films, and studies of online communities. Her poetry has been featured in online sites like Poetry International Web and Muse India and also in several anthologies.
Das's poetry works with voice, soundscape and comic defamiliarisation. Her first collection, Boki, was published by Virtual Artists Collective, Chicago, in September 2008.
She is Pratilipi's Language Consultant (Assamese).
She can be contacted at river.slant@gmail.com
Nitoo Das At Pratilipi