मोहन राकेश / Mohan Rakesh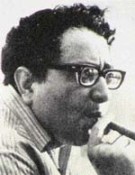 Mohan Rakesh (January 8, 1925 – January 3, 1972) was born in Amritsar, Punjab. He did his M.A. in English and Hindi from Punjab University, Lahore. He was one of the pioneers of the "Nai Kahani" literary movement of the Hindi literature in the 1950s and made significant contributions to novel, short story, travelogue, criticism, memoirs and drama. He was awarded the Sangeet Natak Akademi Award in 1968.
His noted novels are "Andhere Band Kamare" and "Na Aane Wala Kal". His plays "Aashad Ka Ek Din", which played a major role in reviving Hindi theatre in 1960s, and "Adhe Adhure" are highly regarded. His story, "Uski Roti" was made into a film by Mani Kaul in 1971, for which he also wrote the screenplay.
(Bio & photo, courtesy Wikipedia)
Mohan Rakesh at Pratilipi