मदन मीणा / Madan Meena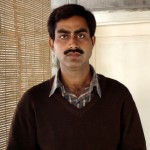 Painter and researcher (Dr.) Madan Meena was born in 1974. He has had more than 25 solo and group exhibitions across the country. His research areas are Ethnography, Tribal art and creativity of Meena women. He has also published two books Nurturing Walls (Tara Books) and Joy of Creativity (self-published).
His awards include Tulika Kalakar Parishad, Udaipur (2002). Annual All India Art Exhibition AIFACS, New Delhi (2000), S.C.Z.C.C., Nagpur (1999), Himachal State Museum, Shimla (1998) and AVANTIKA, New Delhi (1998).
He is currently curating exhibition on brooms for 'Ethnographic Museum of Rajasthan' coming up at Arna-Jharna, Jodhpur and working on documentation on Folk Epic of Devnarain sung in Eastern Rajasthan.
Website: http://creativityofmeenas.org/
Contact: madan_meena@yahoo.co.in
Madan Meena at Pratilipi