के.वी.के. मूर्ति / K.V.K. Murthy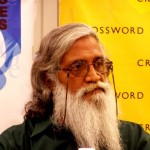 K.V.K. Murthy is a banker by profession, a reader and writer by inclination. He moderates the online writers' network 'Shakespeare and Company' with fellow-writer Pragya Thakur of New York. He has no published volume of poetry, but his poems have appeared in The Telegraph of Calcutta, Poetry Journal of Bombay and in Poetry India: Voices in the Making published by the Poetry Society (India) in 1988. More recently, his poems have found a place in The Guardian, UK.
He hopes, someday, to have a slim (or perhaps not so) volume with his name on the cover – if he has somehow managed to banish his laziness in the interim.
K.V.K. Murthy at Pratilipi