कृष्णा सोबती / Krishna Sobti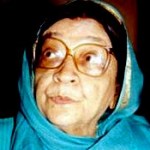 Krishna Sobti was born in Gujarat (West Punjab, in present-day Pakistan) on February 18, 1925.
Her novels include Mitro Marajani, Dara se bichuri, Surajmukhi Andhere Ke, Dil-O-Danish and Zindaginama. Some of her well-known short stories are Nafisa, Sikka Badal Gaya, Badalom ke Ghere.
She won the Sahitya Akademi Award in 1980 for her novel Zindaginama, the Shiromani Award in 1981, the Hindi Academy Award in 1982, the Sahitya Akademi Fellowship in 1996 and the first Katha Chudamani Award in 1999.
(Photo courtesy The South Asian Literary Recordings Project, Library of Congress, New Delhi Office.)
Krishna Sobti at Pratilipi