Khoon Ka Badla Khoon: Umber Ranjana Pandey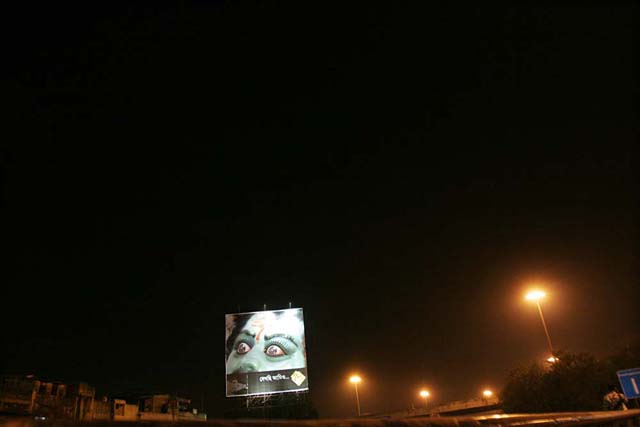 "Life imitates Art far more than Art imitates Life."
— Oscar Wilde in 'The Decay Of Lying – An Observation'
Jhanjhat is blind and Dikkat is deaf. They are dacoits who go to loot a haunted villa in a play called Bhooton Ka Dera. They are rehearsing on an empty stage during midnight, riding their fake horses made with scarlet silk, white lace like they use in bras, and oxidised brocade. They are holding their fake guns and wearing their cheap night suits. Pt. Talib Banarasi, in a yellow dhoti, bare chested and with the sacred thread, is sitting cross-legged on the stairs that lead to stage, reading dialogues from a red cloth-bound notebook, holding a kerosene lamp in his other hand.
To repeat a killing scene with a long melodramatic dialogue, Dikkat goes behind the curtain to come back and make his fake horse jump on his two feet, but when he comes back he sees another cavalier standing there on a real dark brown stallion, wearing a red frock coat and russet jodhpurs with a Parsee cap. He resembles their deceased employer Jehangir Topkhanawallah. Dikkat shrieks. Pt. Talib turns his head and sees the profiles of three cavaliers in the moonlight, coming through the cracks in the roof, and shadows. He scurries to the stage and holds his lamp high. He first sees a wiry moustache waxed upward in a circular fashion and oiled, thin hair. He is Pt. Talib's late employer. Jehangir's erstwhile pale-like-white-roses complexion is greyer now and his ears are bleeding. Pt. Talib faints.
***
Before dawn, Pt. Talib goes from Shukdev Dharamshala, where he is staying with Jhanjhat, to Hotel Carlton on a borrowed, broken bicycle. Dikkat runs after them with a kerosene lamp in his left hand, shaded with a glass blackened with smoke. Room number 346's mahogany doors are closed, and inside Ustad Jhande Khan is singing Raag Bihag, an early dawn raag. After that, he sings the Raag Bhairavi to finish.
Pt. Talib knocks on the door, it remains closed. He walks restlessly in the corridors. Jhanjhat peeks through a window and listens to Raag Bihag. Dikkat sits on the floor repairing his torn shoes on his lap. The door opens and Prince comes in. He asks Pt. Talib the reason for such an early morning visit. Pt. Talib stares at Prince. Prince gets angry and shouts at Pt. Talib, then falls on the floor due to drunkenness. Ratan Topkhanawallah comes next. He is wearing a Parsee cap, a double-breasted tweed suit and patent leather shoes. He is relatively sober. The kerosene lamp extinguishes and gloom reigns. Ustad Jhande Khan starts singing Raag Bhairavi.
***
Guldam is reciting a long rhyming dialogue in pitched musical cadence. She is wearing a white nightgown made of netting, with gray satin lining. She is standing in front of a human-sized mirror in a convoluted mahogany frame. A domestic maid, who is a retired prostitute suffering from syphilis as can be seen from the atypical swivel in her gait, with a bizarre pointed nose and barbed teeth, is wiping her tearful eyes continuously. Prince enters the room with a batter. His bearing is rickety, his eyes crimson and cobalt like pomegranate skin, and his hands quivering. The retired prostitute rushes to fetch a glass of water for him. Guldam narrates the dialogue for Prince but he screams. His voice is slightly effeminate and drunk. He tells Guldam that she is wasting away in Parsee theatre and should join the talkies since she speaks so well.
Guldam refuses. Prince accuses her of being in love with Ratan Topkhanawallah, because of whom she does not want to leave theatre. He tells her that Ratan will use her and leave her. The retired prostitute brings a glass of water but Prince wants whiskey. Guldam falls on a three-legged Victorian chair with olive upholstery. A cluster of harsh late-morning sunbeams fall on her drowning indigo irises.
The retired prostitute brings him whiskey. He gulps it down and stands, telling Guldam that he is going to Calcutta to talk to a film producer for her and will be accepting the advance amount on her behalf and she has to work in the film no matter what. He leaves in his tremulous, crooked gait.
Guldam ties her ammonia washed hair, wipes her rundown kohl and continues with her dialogue. Munshi Mogra Muradabadi meets Prince at the door and wishes him luck for his voyage to Calcutta. Munshi comes in. He is wearing a pyjama and a shirt, with an intricately embroidered shawl over it. He wears soorma in his eyes and a pair of pungent cotton balls with attar behind his ears. A claret rose is pinned on the left side of his chest, right over his heart. He is carrying a magnifying glass and a poetry collection of Mir Taqi Mir in his left hand, and in the right, a rosary made of turquoise beads.
When he sees wrinkles on Guldam's forlorn forehead, he too warns her against Ratan's love for her, which is, in reality, nothing more than fire in the blood and a good economic equation for him. He says that her brother Prince is thinking for the good of both her and the family. Guldam cries again, lying at his feet, while he continues with his reading, aided by the magnifying glass.
***
Ratan roams outside Dalhousie theatre in his double-breasted tweed suit and patent leather shoes, smoking a cigarette. A colossal moon is hanging just behind his neck like a florescent kite. Pt. Talib sees Ratan's wiry moustache dissolving into smoke and moonlight and, for a split second, mistakes him for Jehangir.
Chote Miyan – the costume and art designer for Moonlight of India Theatre Company – is clipping owls' wings as they are needed for the play Bhooton Ka Dera. Afterwards, he tries to make them fly and the owls fall. He laughs monstrously.
Pt. Talib and Ratan go to theatre hall and Pt. Talib opens its rusted, wedged lock with difficulty. Pt. Talib's glasses fall and they can't find them in dark even after searching for a long time. In the theatre, Ratan sees his father Jehangir on a corner of the stage. He runs after him, ignoring Pt. Talib's warnings. Pt. Talib feels almost blind after losing his glasses and finds himself lost in a labyrinth of chairs and curtains.
Ratan takes out his revolver and holds it against the ghost, but after seeing the ghost's bleeding ears and irises drowned in tears, his revolver drops mechanically. He falls on the floor and sees Jehangir from down there. He stands with difficulty, Jehangir helping him. He swabs Jehangir's blood from his ears, wipes his eyes, and cries.
The ghost tells him that Jaal, his uncle, and Chappan Churi Itabewali, his mother, have murdered him by pouring hemlock in his ears, to marry each other and gain his wealth and the Theatre Company. Ratan Topkhanawallah has to avenge his father's death.
After listening to this, Ratan clings to a heavy curtain and howls, and when he opens his eyes, he finds only a mob of owls with clipped wings trying to fly over his head.
Pt. Talib is trying to get them out of there. When Ratan comes outside, the moon is transparent and parched like an old, pale paper.
***
It is a huge dark-wood bed, with four naked guardian angels on its four sides and a mosquito net tied to it. There are two flower vases on both sides of the bed, with withered pale and pink roses in them. A couple of empty wine bottles are lying on the Persian carpet down there. The curtains are drawn and a knot of daylight hangs suspended on the olive coloured broken-bridge-and-wagon-print wallpaper. A chandelier with burning candles is hanging above, giving off a steady light.
Chappan Churi Itabewali is sitting on the bed under the mosquito net in a scarlet velvet gown with emerald buttons – all undone. She is a forty-six year old woman, voluptuous as Venus in the Renaissance oil paintings, with henna-dyed hair and supple limbs.
Jaal is lying on his stomach, bare-chested, drinking tea and smoking a cigarette. He is a thirty-six year old man with strong shoulders, striking looks and a rapacious mouth. He is wearing a black woollen pyjama and russet and cherry argyle socks.
A Persian cat with scarlet stripes, named Gundu Billoua, is drinking tea too from a saucer on the bed. It is a one-eyed cat with only a mass of flesh in place of the missing eye. Between sips, it licks Jaal's back and neck and Itabewali's feet.
Ratan enters in his previous night's clothes, bedraggled, tired and lost. He sits on a chaise longue in front of their bed. Itabewali tries to soothe him and asks him about last night and the ghost. She soothes him while spraying some French perfume on her neck at the same time. She cries. Ratan laughs. He suddenly stands on the settee and starts blowing out the candles in the chandelier. Jaal offers him a cigarette which he accepts, but refuses the light saying he prefers other's poison but his own fire. He leaves.
Jaal and Itabewali look at each other, unable to understand Ratan's behaviour. Jaal sniffs the perfume on Itablewali's neck and kisses her on her bosom. He drapes down the mosquito net. They can be seen having sex through it.
At the same time, Ratan wanders the corridors of Hotel Carlton, smoking. Gundu Billoua follows Ratan and tries to get in between his boots.
***
Ratan is sitting in a room cluttered with papers. Its walls are damp and unadorned except for a three year old 1931 calendar. There is only a single iron chair, which Ratan occupies. Late evening light, like absinthe, is filling the room through its open windows and two doors. A strong wind is running through Ratan's hair.
An old man in a skull cap, only skin and bones, comes in wearing an oversized tartan coat and torn gloves to tell Ratan that he can't run the theatre shows now, not even for a single day. They have been running losses for the last three months. The opening of the cinema theatre in Lucknow has broken the spine of Moon of India Theatre Company. Now everybody wants to see the play of shadow and light.
That old man is the manager of theatre company – Munim Piroze Bhoy.
Ratan suggests starting a new play to compete with the cinema. Piroze Bhoy suggests going back to Calcutta and rehearsing there for the new play, so as to reduce the accommodation cost as everybody has a home in Calcutta. Ratan orders him to make the necessary arrangements for the journey. He leaves the room through a dark passage. Only his burning cigarette, its fumes and his dim eyes can be seen.
***
Everyone is packing their belongings at Moonlight of India Theatre Company. Guldam and the retired prostitute are packing the theatre costumes. Munshi Mogra Muradabadi is packing hardbound volumes of Shakespeare. Jaal is packing French wines, bottles of Scotch and guns. Itabewali is packing diamonds, with Gundu Billoua in her left hand. Jhanjat and Dikkat are tying their battered lamps and aluminium utensils in a bed sheet. Pt. Talib Benarasi has only two pairs of pyjamas and a brass vessel, so he is meditating in a corner under the harsh noon sun.
Ratan is standing in a bazaar swarming with people reading a film poster.
Late evening, everybody returns from the cinema talking about it. They come to the tearoom where Ratan is reading old letters written to him by Jehangir. Guldam, Itabewali, Jaal, Munshi Mogra and Pt. Talib talk about that wonder of technology called cinema. Ratan listens to them patiently. Guldam asks him why he didn't join them and missed such a show.
This ruffles his feathers. He prophesizes doom. He announces that the cinema will gobble up the theatre and that they will die hungry and destitute on the footpaths due to it.
Jaal and Munshi converse in a corner of the room, whispering that Ratan has gone crazy after witnessing the ghost. He has started making strange prophecies of doom. Itabewali cries at the despondent state of her son. Guldam leaves the tearoom, hurt.
In another room, Ustad Jhande Khan sings a thumri.
***
An engine exhales steam and its sound wakes Guldam in her first-class train compartment. She peers outside from the window. It is the witching hour, the world is a bottle of liquid shadows. She asks the retired prostitute, who lies restless on the floor, perhaps in pain, for water. The retired prostitute tries to fetch water from the swan-shaped earthen pot lying near her but finds it empty. She stands with difficulty, grumbling, and goes to the pantry to bring water.
Guldam stands and switches on the gas lamp. She picks up a book named Kaali Haaveli by Hijaab Imtiaz Ali Taj and starts reading it. She is wearing a very loose pyjama and an equally loose white chemise. She has put a lot of mosquito repelling ointment on her face and limbs and is looking very greasy.
Suddenly, Ratan enters her cabin. He is wearing boxer shorts worn to shreds with miniature watercraft and elaborate sails printed on it, a new V-neck vest and a leather hat. Today there is a new swagger in his mannerisms. He is ceaselessly smoking, restlessly moving his limbs.
He confesses his love to Guldam, and presents a synthetic magenta rose, abundantly sprayed with cheap perfume, to her. He tears his vest with an arduous ardour and shows her the tattoo on the left side of his chest – a heart pierced by an arrow. Guldam is terrified and looks outside the window. The train is crossing a huge river and the bridge is quivering. So is the train. Ratan starts reciting a ghazal in his Parsee accent for Guldam.
He cries for his father and tells Guldam that Itabewali and Jaal have killed his father. He confesses that he wants to slay them, and for that he is feigning lunacy.
Guldam listens to him, quivering and crying. Ratan leaves abruptly.
***
In a three-room flat in a damp, old dwelling in downtown Calcutta, Guldam and the retired prostitute are unpacking their bedding and clothes. Munshi Mogra is slumbering on a rocking chair with the wings of an Urdu newspaper spread across his chest. Guldam leaps to window and flings it open. A couple of clouds are sauntering in the sky, making the light dreary and the atmosphere grave. She sees walls covered with film posters, moss and the red spots of paan-eaters' spit.
She meanders towards Munshi, pearls of sweat forming on her temples and her pupils edgy. She wakes him up by twitching his newspaper. Munshi stirs and takes the newspaper in his hands. He has almost gone blind and can see things only very, very close to him. He buries his narrowed brows in the newspaper.
After restlessly pacing the whole room three or four times, Guldam tells Munshi that Ratan came to her compartment last night and confessed his love. She says that he told her some weird things too, but abruptly stops herself from speaking about the murder. She falls on the edge of a bed with a red bed sheet spread over it.
Munshi gets on to his rickety feet and tells Guldam that she has invited this upon herself and that she had been encouraging him for quite a long time. He walks to the window and spits the tobacco which had been in his mouth since morning. Guldam clutches a poetry book lying on the bed and rests her forehead on its hardbound cover. He then tells her that he will talk about it to Itabewali and Jaal and that she has to continue working with the theatre company till she gets some work in the cinema.
Munshi drapes his embroidered shawl across his shoulders and leaves. We see Guldam in the mirror. She is reading the same ghazal Ratan had read to her last night. She cries afterwards.
***
Jaal is driving a black convertible Mercedes. Itabewali is sitting on the right seat with Gundu Billoua, her hair loose, black fur around her neck and a lemon yellow satin sari draped around her plump, soft form. The scarlet marmalade light of the bazaar is merging with the pale blue glow of the sky. A couple of heavy graphite clouds are hanging over the square. A flower vendor is selling white and crimson carnations. Jaal buys green and blue sugar candies for Itabewali from a candy vendor.
Their car halts in front of an Italian villa painted in reddish-brown and fawn hues, with curious wrought-iron work in the balcony constructed in an English garden. The doors and windows are painted in green, with guardian angels, pale like the moon, over them.
An attendant in white attire and high boots opens the door of the Mercedes for Jaal and Itabewali. In the garden, at the tea table, Munshi Mogra is whispering to himself and rubbing his hands as if washing them.
Jaal goes inside and Itabewali comes to the tea table. Pt. Talib too comes in a pyjama and shirt, with an umbrella in his hands. He informs Itabewali that Ratan has decided to get a new play written, and for this he has appointed Aga Hashr Kashmiri. Mushi Mogra's wrinkled mouth contracts with anger and bleakness covers his dark circles. He rubs his hands more violently and declares that Ratan has gone completely mad. He witnesses ghosts and foresees the future. Itabewali falls on the green-painted iron garden chairs and Jaal comes with a bottle of Scotch and two glasses in his hands. He makes his drink and Pt. Talib leaves.
Munshi Mogra takes out a letter and says that it is a love letter written by Ratan to Guldam (later, it will be disclosed that the letter is forged) and Guldam is pregnant with Ratan's child, but he will not marry his daughter to a crazy idiot in any case. He will abort the pregnancy and will leave Calcutta for Bombay for the betterment of her career. For that he just needs some money. Jaal listens, drinking, and laughs. He then suggests that Munshi ask Ratan himself for money, to which Munshi objects angrily saying that he cannot ask a madman for money. Itabewali says that this is all a lie and that Ratan cannot do such a thing. Munshi at once plans a conspiracy and suggests that during the next rehearsals, when Ratan and Guldam will meet alone, Jaal and Munshi should eavesdrop on them and find out the truth.
Munshi leaves on his rickety legs and now Jaal and Itabewali are left alone at the tea table. It is almost dark now. A faint moon is emerging but dim sunlight is still suspended on the uppermost leaves and on the birds in the trees. Itabewali's pupils become red like hot coals and she asks whether Ratan knows that they are sleeping together. Jaal, drunk and brash, laughs a rowdy laughter.
***
Munshi Mogra, walking towards the gate, hear Jaal's laughter and whispers obscenities. In the dark, he encounters Ratan smoking and reading Shakespeare's Hamlet in the glow of a cupid-shaped electric lamppost. Ratan stops him and asks him about his coat's fit, but when Munshi expresses ignorance about it, he calls him his tailor-master Gesu Jabaria. Munshi lectures him on manners and how to behave with elders and says that he is Ratan's father's age.
Ratan asks abruptly whether Munshi has any daughter.
Munshi leaves in the dark. Ratan stands in the blaze of the lamppost. A huge shadow of a tree is falling on him. A row of owls is sitting on one of the branches of a silver oak tree. Gundu Billoua is hunting a mouse in the halves and squares of light in a corner. Ratan sees his father in the theatre and remembers his words. He sees his mother sleeping with Jaal and Gundu Billoua licking Itabewali's right foot.
Many a time, he kills Itabewali in his thoughts, but when he opens his eyes he sees her dark brown profile eating a slice of papaya, perhaps, through the russet curtains in the soft golden light, from far, far away.
***
Old theatrical costumes with faded brocade and lace are hanging in the hall. It is a large green-room behind Moonlight of India Theatre Company's actual auditorium. The hall is dark and tens of mirrors hang around the walls. Pt. Talib Benarasi is scribbling something in his red notebook under a patch of light, Munshi Mogra Muradabadi is musing with his head in his quivering hands, Guldam is looking at Ratan who is reading Hamlet again.
Prince and Jaal are drinking Scotch as usual, Jhanjhat and Dikkat are laughing in the corner, the tabla-player Ustad Fanne Khan, and Ustad Jhande Khan are sitting around Chappan Churi Itabewali who is singing Jigar Muradabadi's nazm Tabiyat In Dinon Begana-e-Gham Hoti Jati Hai in front of a battered candle-stand. Mirza Hussain, a well-known Parsee theatre actor is smoking a beedi in the corner.
Outside, it is afternoon and, in an open yellow Chevrolet Impala, a man aged around fifty, wearing neon green pyjamas and a scarlet kurta, comes to meet Ratan. He is eating a pomegranate and reading an Urdu novel. When he reaches the auditorium, he sprinkles some obscenities on the driver and waits for Ratan to take him inside. Ratan comes outside, his eyes blinking because of the sun. They go to the same hall and discuss the new play. Now Itabewali is singing Momim's Woh Jo Hum Mein Tum Mein Quarar Tha.
Ratan tells the man to write about a son whose father has been killed by his own mother and uncle. They decide to call it Khoon Ka Badla Khoon. That person tells him that it is the story of Shakespeare's Hamlet. Ratan tells him Hamlet is his favourite book as it is about indecisiveness and he too can't decide easily. The man now tells him that he had always heard that Ratan was mad, but he does not feel the same. Ratan laughs and laughs and laughs. He can't stop laughing until his eyes fill up with tears.
The man looks at him awkwardly.
Now Ratan stands on the dressing table and announces that Aga Hashr Kashmiri is here today. Everybody touches their ears to show respect and greets him. Munshi Mogra calls him his Ustad. Itabewali sings another Mirza Ghalib ghazal especially for Aga Hashr Kashmiri.
***
An empty decrepit stage, dark and cold, is occupied by Guldam. Jaal and Munshi Mogra are hiding behind the heavy velvet maroon curtains embroidered with golden threads.
Guldam is dressed in Roman attire and is playing a Jewish girl. She enters the stage and exits, enters again to and exits again.
Ratan enters with an un-burnt cigarette in his mouth, juggling a matchbox and humming Akhatri Bai Faizabadi's tune.
Guldam stops suddenly as if she has turned into stone. Ratan talks to her about Aga Hashr Kashmiri. At the same time, he keeps moving in and out of the curtains, and notices that someone is hiding behind them.
Abruptly, Ratan's tone of voice changes and he starts abusing Guldam, calling her a cheap actress fit for filthy cinema. He behaves very improperly to show his extreme lunacy. He calls her acting third-rate and calls her a slut fit for a sailor.
Guldam falls on the stage and cries. She holds her eyes and sees Ratan. Ratan – angry, cruel, uttering obscenities – is standing in front of her. Ratan, who loves her.
***
Crickets are chirping. On a pale blue sky, a scarlet cloud is curled in the corner, like the dyed lovelocks of a fairy. Ratan is lying unconscious on the white sheets of a white bed. Dikkat is sitting next to him and Pt. Talib is standing with a brass vessel and basil leaves in his hands.
Dikkat tells Pt. Talib that last night Ratan's mental state had been reduced to that of extreme lunacy. A bleak shadow envelops Dikkat's eyes.
***
Ratan is reading the soliloquy from Hamlet, raucously standing on the parapet of the balcony. At any moment, he might fall. Dikkat sees him and asks him to come down. He tells Dikkat that he will come only if Dikkat will write his play.
Dikkat tells him that nobody can write better than Aga Hashr Kashmiri. Why, he asks, should he write instead?
***
Dikkat tells Itabewali, who is standing in Ratan's bedroom wearing tennis-ball coloured parallel-cut pyjamas and chemise, with glass beads around her neck to hide the love-bites, that Aga Hashr Kashmiri died yesterday in Lahore. Itabewali falls on the shoulders of Jaal, who is wearing tennis shorts, a white polo shirt and extremely expensive white sneakers with blue laces, and has a tennis racquet slung over his back.
Itabewali asks Jaal to bring Baba Aafandi's sacred water to exorcise the jinn from Ratan's body, and says that for this they should go to Bhopal, but Dikkat tells them that Ratan's depression is not due to some jinn but because he doesn't know who will write his play now.
Jaal suggests Munshi Mogra's name but Itabewali says that he will not even touch the manuscript because his ego has been hurt.
Pt. Talib says that he will complete the play. Itabewali flings herself on the floor and breathes heavily for a couple of minutes, then thanks Pt. Talib for his help and prophesizes a bright future for him. Jaal leaves for the club. Itabewali goes to bed and combs Ratan's hair with her fingers for a bit, then runs after Jaal to go to the club.
Dikkat and Pt. Talib sit beside Ratan.
***
On a gramophone, Ustad Barkat Ali Khan's thumri in raag Bhairavi, Ras Ke Bhare Tore Nain, is playing. Itabewali is polishing her fingernails with strawberry coloured paint, and teasing Gundu Billoua with her toes. Jaal is wearing a tweed jacket and a purple cravat, and standing at the window smoking a fat cigar.
A red Mercedes, with silver trimmings and without a number plate comes to their porch, and a lean, well-dressed man in a burnt orange shirt, a snake leather belt, lined blue-pleated trousers, and Russian leather wingtips steps out of it. He pushes his sunglasses to his head of dyed hair. He strikes a matchstick and lights his pipe and enters Ratan's and Itabewali's Italian villa.
Jaal sees him first from the window and tells Itabewali to behave shrewdly. The well-dressed man comes in and Jaal greets him. The well-dressed man settles on a couch. Jaal tells Itabewali that the man is Sohrab Modi – the famous film star and Shakespearean actor. Itabewali too greets Sohrab and asks her maid to bring sorbet and her harmonium. She tells Sohrab that, after the advent of talking cinema, theatre has lost its appeal and very few people come to see it. She then shows him the script of Khoon Ka Badla Khoon. She asks Sohrab to not let her son Ratan find out about the sale of the script, since he has started behaving very improperly for the past few days.
When Sohrab asks her about the script, she just tells him that it is based on Hamlet and written by Aga Hashr Kashmiri. Everything else can be found out after reading the script.
Sohrab gives her some money, which she takes. The sorbet and the harmonium arrive. Itabewali sings Daag's ghazal and Sohrab drinks the sorbet. Jaal smokes.
***
A fake crescent moon is drooping over the head of Dikkat, who kills his own brother to marry his wife and to inherit his wealth. Jhanjhat is playing the part of the murdered brother and is sleeping on the bed in a scene of the play Khoon Ka Badla Khoon, written by Aga Hashr Kashmiri and completed by Pt. Talib Benarasi.
Ratan is sitting on the right of the stage, with Pt. Talib Benarasi who is sitting there to give cues to the actors. Ratan has a pair of binoculars and he is watching Jaal and Itabewali. In between the scenes, he recites the dialogues from Hamlet to Pt. Talib Benarasi.
Every detail of the scene is seen through Ratan's binoculars.
The retired prostitute is playing the part of the murdered brother's wife who, with her brother-in-law, kills her own husband for lust and avarice.
The retired prostitute is singing and her brother-in-law is pouring hemlock in her husband's ears. Her eyes are full of tears and her hands are trembling. A few people are sitting in the audience – Itabewali is fanning herself while everybody else is wearing warm clothes, Jaal is incessantly rolling his own cigarette with hashish and smoking, Itabewali sprays herself with French perfume to get rid of the stink of his cigarettes' fumes.
Sohrab Modi is sitting in the front row with Munshi Mogra and Prince, who are continuously flattering him so that he takes Guldam in his next film. Guldam is playing a role in Khoon Ka Badla Khoon and is, therefore, powdering her nose and painting her cheeks.
When, in the play, the brother-in-law pours hemlock in the ears of the husband and comes and kisses the wife, Jaal coughs and leaves. Ratan's binoculars follow him to the last rows of the auditorium. Itabewali is only half-seen through the binoculars, and in the other half we can see Gundu Billoua, who suddenly jumps from Itabewali's lap and leaps to the stage, munching on a piece of cheese croissant.
His huge shadow falls on the curtain and the chewing gives the impression that he is speaking to the audience.
The characters of the play freeze at their respective places, and Gundu Billoua speaks about his deepest fears. He says that is he afraid that no one will take care of him if Parsee theatre will come to an end, he says that he hates cinema and that the audiences who go there have no class. He also tells them about his immense intelligence and how he is suffering from hypertrophic cardiomyopathy. He tells them about his likes and dislikes: he likes chocolates, ice-creams and prefers wine over milk. He hates mice and would rather eat hot coals instead.
He says that he thinks Ratan should forgive Jaal and Itabewali.
Gundu Billoua then jumps from the stage and sits on an empty chair.
Guldam come onstage, dressed as a fairy and looking extremely adorable. Ratan's binoculars focus on her.
***
Itabewali comes out of her dressing room draped in a pink Turkish towel. Her hair are coloured red and are dripping wet. She settles on a couch, muffled in fluffy cushions, in front of a dressing table with three mirrors. Gundu Billoua leaps upon her lap and her towel slips. She quickly rearranges it and takes out a bottle of port wine from a drawer, gives some to Gundu Billoua in a saucer lying nearby, and drinks it directly from the bottle herself.
She calls her maid Ilayachi Khanam to bring her bottle of French perfume, but suddenly Ratan enters her boudoir telling her that now not even the perfume of France can erase the smell of her sins. Itabewali screams, then runs and hides behind a wooden screen in the room to wear proper clothes.
Itabewali tells Ratan that after seeing the ghost he has gone mad, and Ratan denies it. Ratan accuses Itabewali of marrying a man far below his father in moral standards, within a month of his father's death.
Suddenly, in the heat of the moment, Ratan comes to the corner behind the carved wooden screen, where Itabewali is fastening the buttons of her blouse. Itabewali screams very loudly. Somebody behind the tapestry too cries out for help – in a male voice.
Ratan thinks the man in hiding is Jaal, takes out his revolver and shoots. The corpse falls and he is Munshi Mogra.
Ratan drags the corpse through the dark corridors of the villa. Itabewali follows, in a hastily draped peacock green sari and blue blouse. Suddenly, in the porch, near the car, he again sees his father's ghost.
It is raining heavily, and both of them are half-drenched. The ghost tells Ratan to talk to Itabewali and make her realize her sins. Ratan too talks to the ghost. Itabewali screams, calling Ratan a lunatic and telling him to stop having visions.
The ghost disappears. Itabewali asks Ratan to go away from the site. She tells him that she will tell everyone that she killed Munshi Mogra. Ratan runs, crushing Munshi Mogra's face.
***
Prince is holding a revolver with his wavering hands, pointing it at Jaal's left temple. Jaal is smoking unflappably. They are standing in the dirty and wet gents' toilet of Moonlight of India Theatre's auditorium.
Prince tells Jaal that the last time Munshi Mogra was found alive was in his bedroom, and a bullet had struck his skull at precisely the same spot.
Jaal convinces Prince that there was no way he could have benefited from Munshi Mogra's death, that Ratan had killed him because he was against Ratan and Guldam's amorous relations and was sending Guldam to work in cinema.
***
Jaal and Prince are sitting in the same wet, stinking toilet on a bench, planning to murder Ratan and smoking the same cigarette.
***
The sky is purple, with translucent clouds and sunbeams flickering among them. The manager of Moonlight of India Theatre Company, Munim Piroze Bhoy, and Ratan are strolling in the outer walkway of the auditorium.
Piroze tells Ratan that Munshi Mogra's death was the last nail in the Theatre Company's coffin. Lizards, spiders, owls and mice have become the occupants of the auditorium.
A rickshaw with a thin, old puller stops at the gate of the dwelling. Guldam descends from the rickshaw.
Ratan asks Piroze about Guldam. Piroze tells him that Guldam has gone mad after her father's death: she passes obscene comments, creates and sings songs about love and death, and practices her roles in various Parsee plays of the past religiously.
Ratan takes out a cigarette and runs after Guldam. Most of her hair is prematurely grey, her skin wrinkled like an old quilt due to excessive bathing, and her voice guttural from screaming constantly. She is tossing her limbs in the air as if fighting some ghost. Ratan strikes a matchstick but forgets to light his cigarette. His fingers burn and he flings away the matchstick.
Guldam dances in the dark corridors. Her shadow appears like a giant animal in the fresh gloom of the evening.
***
Jaal pulls Itabewali's right braid and gives her a punch on her left breast.
They are squabbling in their bedroom in the Italian villa. Jaal asks Itabewali why she is spreading the rumour that Jaal has killed Munshi Mogra. Itabewali denies Jaal's accusation. Jaal punches her in the face. She frees herself from his grip and leaps onto the bed. There she picks up a flower vase placed on the bedside table and hurls it at Jaal. It hits his knees.
***
Ratan goes to Guldam's old, damp house and stands behind a pawn shop. A miniature bioscope vendor is selling photographs of Madras, Agra and Banaras to the children. The street is full of film posters and advertisements. The cobbled road is full of potholes and puddles in which several reflections of several moons are trembling.
Two prostitutes are standing in front of a Devi's temple wearing squalid clothes and with thickly made-up faces.
Prince comes down the stairs and goes westwards in a cycle rickshaw.
Ratan rushes to Guldam's home. The retired prostitute opens the door for her. It is a gaudily decorated room with cheap furniture and heaps of artificial flowers. Ratan goes directly to Guldam's room. He hears water running in the bathroom and eavesdrops. Guldam is practicing a long dialogue from her role in Pariyon Ki Shehzadi while bathing. He sees her from a ventilator. Guldam is naked and bathing in a tub, with a mirror in her right hand. She looks at herself again and makes a face.
He professes his love for her but she continues with the dialogue.
***
Gundu Billoua is sleeping in a woollen cradle in the garden of the villa. Ratan is sipping tea, wearing a blue-striped pyjama and shirt. Itabewali comes bruised and without make-up in a crumpled sari to announce that Guldam died early that morning by drowning in her bathtub.
Gundu Billoua leaps to Itabewali's feet. Itabewali tells Ratan that Guldam was the sweetest person and she never deserved such a fate.
Ratan screams, 'Ophelia! Ophelia!'
Itabewali expresses concern for Ratan's sanity.
***
It is raining heavily. In the graveyard, two gravediggers are talking about the mud being heavy due to the rain.
Suddenly, they find out a skeleton in the grave they are digging. Just then, Ratan arrives upon the scene. His hair is wet and caked with mud, and his limbs are injured from falling on the way to cemetery.
He cries for Guldam at the empty grave.
Soon, Guldam's funeral possession arrives. Prince and Ratan scuffle in the graveyard, but Jaal reminds Prince of their plan to kill Ratan.
***
Ratan is wearing his tweed jacket and Russian leather wingtips. He is sitting in his room. The Belgium chandelier is lit and the shadows are transparent and light.
He takes out his father's revolver and keeps it in his jacket's inner pocket.
***
Itabewali is tying a pearl string around Gundu Billoua's neck.
Jaal is playing with a theatrical knife, wearing a paisley print scarf and a blue double-breasted suit.
***
'Minerva Talkies' is written on the upper side of the building with electric bulbs. Below it hangs a huge colour poster of the film Khoon Ka Badla Khoon, starring Sohrab Modi and Naseem Bano.
Only diamonds can be seen in the dark hall of movie theatre. Itabewali and Ratan are sitting on the balcony with Jaal who is smoking as usual. Naseem Bano is sitting on the sofa in pale chiffon and black Tahitian pearls. Sohrab Modi is standing at the door, helping the audience find their seats. Pt. Talib is sitting in the last row of the balcony with Prince. Somebody burns one of the curtains. Chaos spreads in the theatre.
Prince stands and shoots at Ratan, but the bullet strikes Itabewali's lung. She dies. Ratan takes out his gun and shoots in defence. Prince dies in the arms of Pt. Talib, screaming obscenities at Ratan.
Jaal stabs Ratan in the stomach with the theatrical knife. Ratan shoots Jaal too.
***
An auditorium is being converted into a cinema hall, here in Calcutta.
Moonlight of India Theatre Company's people have all scattered, abandoning Gundu.
He has grown into a feral cat, but his snobbishness still hasn't left him. He holds his head high and eyes every mouse with nonchalance.
Some labourer gives him liquid sattu out of pity. Gundu Billoua looks at it haughtily for a long time but eventually gives in to hunger.
He goes to the wrecked bowl and licks. Labourers are fitting a film projector in the cinema hall, but Gundu Billoua obstructs the rays.
His shadow, as he licks the sattu, looks as if he is speaking to the empty chairs today.
He says:
"And at last they killed each other. Everyone died. Parsee theatre died. I eat sattu nowadays and drink water.
Sohrab Modi released Khoon Ka Badla Khoon all over India and it was a hit at the box office. The Moonlight of India Theatre Company closed down. Junior male artists joined the cinema as extras, and junior female artists became prostitutes because they thought it was obscene for a woman to join films."
FIN