कविता जोशी / Kavita Joshi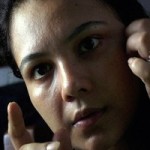 Kavita Joshi is a filmmaker and media trainer based in Delhi. Her recent films have focused on women's struggles for justice and human rights. They have been screened at festivals in 30 cities across the world, and have received honors including the Jury Prize for Human Rights at Docudays Ukraine, the Jury's Special Mention at IMNSF Geneva, and a Silver Remi at WorldFest Houston. Some of her work has been broadcast by NRK Norway and Doordarshan, and webcast by the 'Why Democracy' project of STEPS International. She is associated with the anti-censorship movement by independent filmmakers across India and is a member of the IAWRT.
Filmography:
Some Roots Grow Upwards: (2002 / 52 m): on the theatre of noted Manipuri director, Ratan Thiyam
Untitled works on women and conflict (2005 / shorts) for broadcast on NRK Norway.
Tales from the Margins: (2006 / 23 m): on the conflict situation in Manipur and the extraordinary protests by its women.
My Body, My Weapon: (2007 / 11 min): on Irom Sharmila's fast-to-death against the AFSPA.
For more information: kavitajoshi.blogspot.com
Kavita Joshi at Pratilipi