गुलज़ार / Gulzar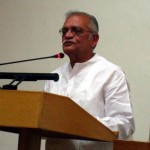 (Photo: Hemanshu Kumar)
Born in Deena (now in Pakistan) on 18th August, 1934, Gulzar came to Delhi after Partition. Although films gave him a mass recognition, poetry has always remained his first love. His first poetry collection Ek Boond Chaand was published in 1962. Roopa – Harper Collins published his poetry collections Triveni and "Raat, Chaand aur Mein", Pukhraj and Raat Pashmine Ki. His book of poems Raat Pashmine ki has also been published in Pakistan.
He started writing songs for films with Bimal Roy's Bandini. His first film to be released was Kabuli Wala, which also had some all time greats like Ganga aaye kahan se. Bandini and Kabuliwala were followed by Sannata, Biwi aur Makan, Do Dooni Chaar and most notable of all Khamoshi. He turned director of films with Mere Apne, in addition to writing stories for films.
For the small screen, he directed the serial called Mirza Ghalib, In 2006 he received the best lyricist award at almost every major award function. He recently did a tele serial on Munshi Premchand's works titled Tehrir… Munshi Premchand ki.
Rajkamal Prakashan is in the process of compiling the scripts of Gulzar's films. A few notable experiments recently have been Kharaashein – a play directed by Salim Arif on Gulzar's short stories.  Gulzar's Poetry has appeared on Canvas by a young Painter Ajay Kumar Samir.
Gulzar has won 7 National Awards and 18 Filmfare Trophies. He has been awarded the SAHITYA AKADEMY AWARD in 2003 for his collection of short stories "Dhuaan". FILMFARE has honoured him with a LifeTime Achievement Award for his contribution to Hindi Cinema in 2002.
The Government of India has conferred Gulzar saab with the National Honour of PADMABHUSHAN.
Gulzar at Pratilipi
एक आबी कब्र: सुकृता पाल कुमार (Translator)