कैरोलाइना पिहेलगास / Carolina Pihelgas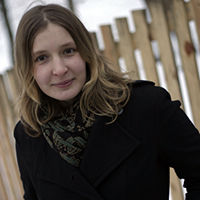 Carolina Pihelgas was born on 24th February 1986 in Tallinn, Estonia.
In 2004, she graduated high school and spent two years traveling around the world. In 2006, she was back at home and published her first colelction of poems "Sõrmemuster" (Finger-pattern). Her poems have also been published in different literary magazines in Estonia. She belongs to a literary group Purpurmust org (Purpleblack valley) and is working on her second book "Põhi" (a homonym, which means "North" and "Bottom"). She has translated poetry from English (Rita Dove), German (Michael Augustin) and Norwegian (Tor Ulven, Gro Dahle).
At the moment she is studying Theology and Ethnology at Tartu University.
Carolina Pihelgas at Pratilipi