बद्री नारायण / Badri Narayan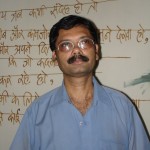 Poet and social scientist Badri Narayan has published two books Lok Sanskriti Mein Rashtravad and Sanskriti Ka Gadya in cultural history and three collections of poetry. His poetry awards include Bharat Bhushan Agrawal Smruti Puraskar and this year's Kedar Samman.
His current interests are popular culture, social and anthropological history, dalit and subaltern issues and the relationship between power and culture and is currently associated with the Museum of Ethnography and Socio Economic Development, Govind Ballabh Pant Institute of Social Sciences, Jhusi, Allahabad.
Badri Narayan at Pratilipi