अशोक नियोगी / Ashok Niyogi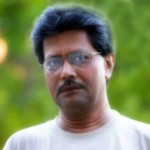 Ashok Niyogi was born in Calcutta in 1955. He was schooled all over India in Irish Christian Brothers' Schools and graduated with Honors in Economics from Presidency College, Calcutta.
Ashok spent 30 years in the world of International Commerce, and has lived and worked in East Europe, Russia, the CIS and South East Asia. His work has taken him all over the world and he now divides his time between California where his two daughters live, and India.
Ashok has two books of poetry in India — Crossroads and Reflections in the Dark (both from A-4 Publications) and one book of poems from the USA — Tentatively (iUniverse) and numerous chapbooks from Slow Trains, Lily Lit, etc. He has been published extensively online and in print in India, the USA, the UK, New Zealand, Australia, Canada, Hong Kong, Holland etc.
Ashok Niyogi at Pratilipi