अरुण कमल / Arun Kamal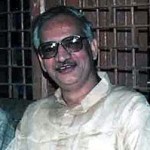 Arun Kamal (b. 1954) has published four collections of poetry – Apnee Keval Dhaar (1980), Saboot (1989), Naye Ilake Mein (1996), Putalee mein Sansaar (2004) – and a book of literary essays.
A recipient of the Bharat Bhushan Agrawal Puruskar (1980), the Soviet Land Nehru Award (1989), the Shrikant Verma Smruti Samman (1990), the Raghuveer Sahay Smruti Samman (1996), the Shamsher Samman (1997) and the Sahitya Akademi Award (1998), Arun lives in Patna where he teaches English at the Science College of Patna University.
Arun Kamal at Pratilipi