अनुपमा राजू / Anupama Raju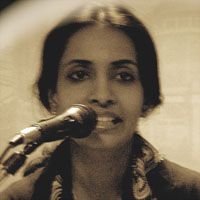 Anupama Raju lives and works in Thiruvananthapuram, Kerala. Her poems have appeared in 'The Little Magazine', Kritya, Mosaic – an anthology of poems and in Sheher (a forthcoming collection of poems by women poets). She read at the recent Prakriti poetry festival, Chennai.
A corporate trainer and journalist, she also enjoys translation studies and moderated a session at 'Translating Bharat', organised by Siyahi in Jaipur, in 2008.
Anupama Raju at Pratilipi