आन येदरलुण्ड/ Ann Jäderlund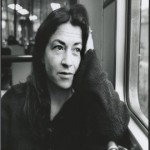 (Photo Courtesy: Ulla Montan)
Born in 1955, Ann Jäderlund has published ten collections of poetry including Vimpelstaden (1985), Ivans bok (1987), Som en gång varit äng (1989), Snart går jag i sommaren ut (1990), Rundkyrka och sjukhuslängor vid vattnet, himlen är förgylld av solens sista strålar (1992), mörker mörka mörkt kristaller (1994), Kalender röd Levande av is (1998), Iris bok (2002), Blomman och människobenet (2003), I en cylinder i vattnet av vattengråt (2006).
She has been honored with many awards including Aftonbladets litteraturpris (1992),Erik Lindegren-priset (1992),  Sveriges Radios Lyrikpris (1994), Göteborgs-Postens litteraturpris (1998), De Nios stora pris (2003), Gerard Bonniers lyrikpris (2004), and Doblougska priset (2004).
Ann lives in Stockholm.
Staffan Söderblom and Teji Grover will engage Ann Jäderlund in a dialogue in the forthcoming International Book-Fair in Gothenberg, Sweden, in September, 2008. We hope to bring that dialogue to our readers.
Ann Jäderlund at Pratilipi