Not Just Another Place: Aruni Kashyap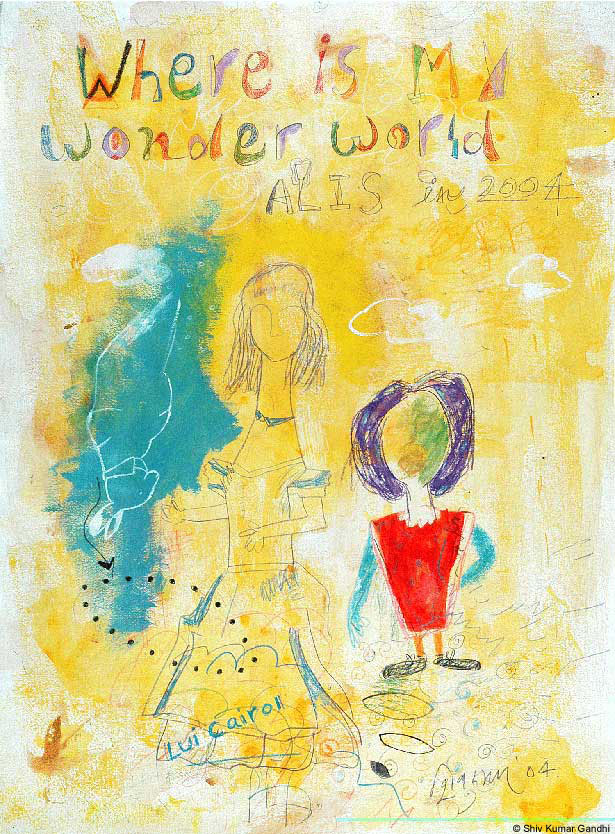 My Deuta never wrote to me before. Or, precisely, Indian fathers usually don't write letters to their sons. I don't know if Manu made that law, as he made many laws for women. Our Jethai followed some of Manu's laws carefully. She always wore white. Never stepped on the ground with bare feet during her periods lest the ground get contaminated, didn't touch us, didn't enter the kitchen. She'd have just one meal a day. Rice heated in an iron pan till the grains cracked – with low sounds like ticks losing their lives, crushed between two fingers – with raw salted cucumber and ripe bananas. Sometimes she drank a glass of milk.
Maybe it was not Manu who made the law that said an Indian father shouldn't tell his son he loves him. I had heard Jethai shouting at Deuta, "Can't you find out what's wrong with your son?" Jethai would never deviate from Manu's laws even though she had never read the Manusmriti – only heard about it from elders.
Nothing was wrong with me.
I don't remember what happened. Such expressions moved around the house so often, like pigeons in the courtyard, that I don't remember the details. It could be because Ma had scolded me for having soiled my new clothes, or hit me with a cane because I didn't "behave well" with guests, or because said I was older when she tried to hide my correct age – an embarrassment to her. During such days, I would not eat, and Ma would say, "The whole world is dying without food and here at home we have children who refuse steaming hot food, cooked with such care by this old woman." (We were not given further details of that world tour.)
That was Ma. She was an "old woman" when we didn't behave well or didn't listen to her or when she was sad. But once – when one of her childhood friends said to her, "Anupoma, what's wrong with you? You have lost that pink hue" – she came back home and asked me, "Dhunu, have I become ugly?"
I was pretty old then. I could fall in love with girls. And I had also read about the Oedipus complex and had discussed it with my Ma. She had said she never felt like marrying her father and I had said I never felt like marrying her. We had laughed.
I replied, "No, Ma. Who said so?"
My widowed Jethai came out to the drawing room. She sat down on the floor on her haunches, started peeling a large maldohi mango and said, "No son finds his mother ugly. Even if she is the ugliest woman in the world, he'll consider her the most beautiful."
The three of us laughed. But I soon found Ma with a face-pack on, talking coquettishly to Deuta. "Have I become ugly? Dhonti thinks I'm still beautiful."
Deuta was reading a newspaper in the quintessential image of an Indian father – paper-reading, tea-sipping, expressionless, detached, angry, terrifying. One who'd never write a personal letter to his son and create ripples in his life, changing it forever. I heard him reply, "If your son says you are still beautiful, what can I say? Maybe you are."
Ma laughed. It was one of those rare moments when they flirted. Otherwise they were so busy with books, teaching, dealing with their students' lives, with the loans taken to build our house in Panjabari and the ancestral land back home which needed frequent care. Where Deuta wanted to start a fishery and an orchid garden after his retirement, where he would take his whole library and write books on Assamese culture, history and anthropology. "I never get time to write. This wretched life, this wretched office, this wretched job of making ends meet and, to top it all, the demands of my children."
There were four of us. Two daughters. Two sons. And he had to meet our various demands that changed as the years went by – from dolls to chocolates, from magic pens to motorbikes, branded clothes and increasing demands of money as we hopped from one class to another to finally leave the state.
My sisters were much older than me – five and seven years older. People said Ma miscarried, accounting for the large gap between Jun Ba, my second elder sister, and me. Jethai talked about blood in the bathroom, silently, to relatives who visited after many years. But she refused to give me the details when I asked since I was "young" and, needless to say, I remained "young" for a very long time. Did she lose her "pink hue" because of that miscarriage? I had never seen her "pink hue."
But it could be an accumulation of all that Deuta hated that made him dream of a life amidst blooming orchids, books, a fishery with fish showing their tails like river dolphins in the Brahmaputra, and lots of coniferous trees – devadarus and pine – around the house. He wanted to build a house where he could live after his retirement or, rather, "after both my sons drive me out of the house."
Usually, I dreaded the idea of leaving my parents in an old-age home. When I grew up, knew, and spoke openly about the Oedipus complex with Ma, I was prompt in replying, "Wow, that would be a classic Assamese version of the story where the couple served food to their old parents in a wooden bowl and their child carved a wooden bowl for his parents too." My Deuta wouldn't react as usually did. Somehow, I felt such sarcastic statements – yes, they waited for such statements, in whatever form they came – negated their worst fears.
So they usually made us listen, my brother Puna and me, to stories of couples who were left in old-age homes, but ending with, "We won't see such days." I knew that were not praising me or my brother. They meant that they would receive pension, that Deuta had a general provident fund, that they were secure. And I would go back to my usual sarcastic mode, "I know, I know. Both of you are pretty rich. Buy me a motorbike, then. I have been crying hoarse for one for so long now!"
"Look at him, so jealous of our money," Ma would retort. I always knew it was joke – a joke that only Ma and I understood. Like those jokes, really poor ones, that she would whisper in my ears during serious meetings where austere people spoke. "Look at that man. What the hell is he saying? What do you think he'll do if I go and slap him across the face?" It was a joke. Between Ma and me. Others would take offence. Others would say that such words, such behavior were not expected of a professor at the oldest college of North East India, the most prestigious college – Cotton College.
Sometimes, I disliked that. Too many people swarmed about the house at all times. The evenings would no more be the evenings with the smell of pakodas and hot steaming Assam-tea leaves boiled in milk, thick and sweet. "No need to add sugar," Ma would instruct our maid, "just pound a small piece of ginger and boil it along with the leaves."
"Look at the bright, reddish-brown color!" Ma would say as if she was advertising "Yeh hai Golaghat chai!" I always wondered why advertisements always sounded like real advertisements only when the dialogues were in English or Hindi.
"There is no place for fat models," Puna would comment.
"Listen to him! Can I slap him for his impudence?" She'd squeal, trying to suppress her laughter.
We would drink tea.
As we grew up, the tea-evenings were invaded by her students seeking different kinds of help. From problems of love to elopement to marriage to depression to exam-induced tension. She would deal with all of them patiently.
How old was I when I left for Delhi?
Ma told me, much later, over the phone, "Your Deuta cried all night the day you left. I have never seen him crying like that. I shook him again and again. He sat up and said, Ei je, he has gone. He'll never come back again. This is just the beginning…"
I knew what the rest of the conversation would have been like.
She would say, "Do you really want him to come back?"
He would say, "No, I don't. What will he do here, in Assam? There is no future here."
"It was us who wanted him to go to Delhi. Did he want to go on his own?"
"Yes, yes, it was I who told him to. I had met Bordoloi's son and Bordoloini at Kalpataru Silk House while shopping for Deepa's wedding gift. They told me that it was not so difficult to have our son live in Delhi. Five thousand rupees a month is enough. He was in class nine then."
"We bought him magazines, prospectuses. We brought Bordoloi's son home to speak to him. And he said how lovely it was to be in Delhi." Bordoloi's son spoke of red brick buildings and neem trees.
"Though we threatened him all the time that, if he didn't score well, he'd be made to study here, would we have let him study here?"
Then, after a long silence, "There is no future here."
Standing in that Connaught Place bookstore in Delhi, I shuddered. Assam had changed my Deuta. Assam had changed our fates. I felt it was not because of my parents' dreams that I wanted to study in Delhi. It was because their dreams of Assam didn't fit with the current reality of the state. And, like many other mothers and fathers, they too felt the need to send their children to a place that fit their dreams. So they acted accordingly. They didn't know what it was like to live in Delhi or Bombay but they wanted me to leave Assam. At least, in those places there were no insurgent organizations that demanded a sovereign state of Assam, a sovereign state of Bodo tribes carved out of Assam, an autonomous council of Bodos that was antithetical to the idea of a sovereign state of Bodoland carved out of Assam that both the Bodo outfits forgot about their common enemy – the Indian government – and fought amongst themselves. There were more: Kuki insurgents that killed Karbis, Karbi insurgents that killed Kukis, Dimasa insurgents… All of them wanted autonomy. A lot of them wanted states based on ethnicity. And we, the blades of grass, caught between insurgents and governments. Two big buffaloes, in whose fight we were trampled and scattered like silk-cotton during the windy, chilly, lunatic phagun months. But there was no joy in that dispersal. There was no beauty in it. And it had changed my father. My father. Paper-reading, tea-sipping, who'd never write a letter to his son.
So selfish. How could you even think of writing me such a letter?
I wanted to hate him, but I couldn't. I didn't buy any books.
As I came out of the bookstore, the fat storekeeper said to me, "Things are not working out here. We are immigrating to London."
I wished I had a ticket, like him, to leave. Not for home. For London or Los Angeles or Lagos. Not alone. With my parents. But I knew they would never come. Like my grandmother – who left the comfort of her daughter-in-law's meals, massages and loving talk in Guwahati, to die in the place where her husband had brought her – my father would prefer to die where he had built his home.
Amidst orchids and barking dogs. Amidst birds that came to peck at guavas in the night. Amidst honking geese, ugly and beautiful ducklings, swans and Chinese ducks with tiny red plumes, tadpoles, fish…
But he was still looking for a break from his wretched life. And I didn't want to be a part of his wretchedness.
His?
When did I start thinking in terms of mine or his? My Deuta never liked the idea of referring to Ma as "my Ma." She was always "our mother." Like our dictionary, our house, our God. Silly things. Silly rules. My silly Deuta… And unlike my grandmother, my silly Deuta wouldn't furnish the silly reason of "booking a place in Heaven by dying where she was married off to," as he laughed at her. He'd say, "Somewhere, in this village, my umbilical cord is buried. How can I leave this place?" But only if he was in the mood for proverbs, in the mood to show off his wisdom with the authority of a tradition he had better access to than I. Otherwise, he'd just say, "Because I want to die here, not in some strange country which is not mine, living there as a second-class citizen."
I don't know who gave him that idea, but my idea of London or Los Angeles was limited too, when I received his letter and thought of going to Latvia or London, since I hadn't traveled or lived abroad.
But I knew. He'd be adamant. He'd be childish. He'd be fatherly. Someone who wouldn't like to be countered, argued or reasoned with. Someone who wouldn't ever write a letter to his eldest son, his third child. Someone who knew that his son loved jalebis and would bring them but never say that he had bought the jalebis for him. He'd just leave them on the dining table. He knew how much money I needed. He'd leave a grand on the table during the first week of each month and say, "Take the money before it gets misplaced." If I asked for more money later, he'd grumble that he had brought up a nawab's son in his beggar's house. The miserable nawab's son always found the money on his table the next morning.
When the nawab's son asked the beggar to tell the story of how his grandfather went on a treasure-hunt and how a large bird came out of a pond and killed one of the men assisting him, the beggar who'd never write a letter wouldn't refuse, wouldn't say anything, but just keep quiet. And the nawab's son who wanted to listen to the story again, though he was old enough to understand and talk about the Oedipus complex, would wait till the beggar started telling the story, looking away from him as if the story was written in the air, on the wall, in the sky.
When Chum Ba eloped with Brajen, I thought he would write her a long emotional letter.
She had studied medicine in Dibrugarh Medical College. She usually didn't call up Deuta after that incident, though we were one of the very few families in Jalukbari who had phones then. Maybe she just didn't dare to, after what she had done.
It was she who had forced us to buy the phone – something which Deuta thought was unnecessary. We had been living without a telephone till then, he reasoned, so it was absolutely fine not to have one.
But Chum Ba was adamant. Just like her father, as Jethai always complained. She had many reasons. She didn't like waiting in our landlord's house for her friends' calls. And it was trouble for them too. And, above all, there were five boys in the landlord's house. It was not a statement that furnished facts. It was a statement that demanded to be understood and responded to.
"They are like your brothers," Deuta would say.
But Ma screamed at Deuta, "Brothers? Brothers from which birth? Which mother? Being seven, eight years older than her doesn't turn them into her brothers. I'm not supporting the idea of a phone – it's just another added expenditure – but just saying that! You can't remain as simple as Shiva. Desot ki ghotise khobor rakhiba."
Keep track of what's happening in the country.
Country. Didn't Chum Ba know what was happening in the country? Country, for Ma or me or anyone else, was Assam. Not India. Not the United States. Not London or Latvia. News from Delhi, Bombay, Calcutta, Madras did reach us through papers, but we always felt that we didn't belong to that country called India. We were in a different country. We felt it, or were made to feel it. When there was a bomb blast in Delhi, we would read about it in all the newspapers but we would not find reports of bomb blasts that happened in Assam even if more people died than in Delhi, Amritsar or Patna. The Telegraph, the national newspaper published from Calcutta, reached us a day late since, like all other national newspapers, they didn't publish an edition from any city in the North East, despite the fact that English was one of the most-used languages there. Chum Ba knew all this. She knew, better than me, that the nationalist Assam Agitation was a big mistake. And I often heard her talking about some really serious things like the Nellie massacre in '83 when lots of allegedly illegal Bangladeshi migrants were killed, or why the ULFA was formed, or how the Congress government encouraged illegal Bangladeshi migration and gave them voter cards so that they always remained in power, or how a new breed of men and women – especially men – was created after the Assam Agitation and after the formation of the ULFA.
Shouldn't Chum Ba, who knew so much more, have thought twice before eloping with Brajen?
She never wrote about him in the letters. And she wrote long letters. She, who had asked my terrifying Deuta when she was young what the meaning of 'penis' was while reading an English novel, who wrote long letters about how she was ragged, how 'sexy' some of the guys in her class were but were so dumb that you wouldn't even look at them again once you heard them speak, how she watched a porn film with her friends and retched and vowed that she'd never watch one again – she didn't write about Brajen to her Deuta. She knew that Deuta would never allow that marriage.
While listening to Ma and Deuta talk of Chum Ba all the time, I learnt many things.
How old was I then? I think I was studying in the seventh standard when she eloped with Brajen. When Pranjol Mama called up to tell us, we thought he was speaking about some other Chum. Not our Chum Ba, who said she would accompany Deuta to our ancestral village after his retirement, marry a cowherd and work for the village by opening a hospital there. How could she do this?
"Dada, that's not my daughter you are speaking about," Deuta told him flatly.
Eleven days later, we washed all our clothes, we washed our pressure cookers, our cooking pans, sprinkled holy gangajal in the kitchen with a tulsi leaf and called a brahmin to perform the funeral rites for the eldest daughter of the house. Funeral rites of Dhritinayana Sharma alias Chum. Of course, no one came for the rites. No one was expected to. Ma cried all day. Jethai held her in her arms and said, "What to do Buwari? You've got it written on your forehead. Bear as much you can bear, it's good for you."
It was so hot that day that children didn't go out with their bats to the field to play in the afternoon and mothers were bad-tempered from having to do the household chores under a fan that spewed hot air and made the room hotter. Ma sat in the sun and cried until Jethai dragged her home. I don't know why Ma didn't want to come inside. But since Jethai called out for help, Puna and I helped her drag Ma home. Inside, Ma kept crying. Jethai kept saying, "She is a high blood pressure patient. Don't let her sit in the sun. She might suffer a stroke." Jethai was a homeopath. We listened to her. After all, even Deuta listened to her since she was his elder sister.
Many days later we heard that Chum Ba had been in our colony that day. She sat in a neighbor's house and cried while Ma wept, sitting under the sun accepting, agreeing, through the Vedic rituals, that her eldest daughter, for whom she had cried hoarse in the dingy, dirty labor room of Guwahati Medical College Hospital was no more. At least, not for us.
Now I realize why we thought that it could not be our Chum Ba. Because we knew Brajen. Because we saw him whenever we went to Dibrugarh, sitting at the roadside tea-stall at Bhutiya Bozaar. Because we'd heard that Brajen had beaten up ten men in the bazaar because one of them had asked him to keep away from the girls in the city. Because Pranjol Mama always spoke with regret about the bright student Brajen, who topped the state and went on to participate in the Assamese-nationalistic Assam Agitation, became disillusioned with it, went and joined the ULFA and returned as a SULFA after surrendering his arms under Hiteshar Saikia's regime.
Brajen was about fifteen years older than Chum Ba. Our Chum Ba, who wrote such lovely letters in green ink. Sometimes she drew flowers on the borders. Decorated them with red dots, yellow dots and little triangles hovering over the flowers in glowing ink. She always wrote 'Om' at the top of each letter. She wrote letters only to Deuta, and Ma would read them and keep them away from me and Jun Ba since we were not old enough. She'd say, "I cried hoarse for a night to give birth to her. Now this man has taken her away! Okay, I relinquish all claims to her! This child of ours is yours!" Both of them laughed. Deuta laughed too. One of his rare moments of laughter. The pride of fatherhood glistening on his face. Pride, because his daughter was a friend who could discuss crushes and sex with him.
Yet he didn't write a letter to her when she betrayed him.
But Chum Ba came back. By then, Jun Ba had already slashed her wrists, had been sent to Bombay to study and no longer demanded branded shoes, branded jeans, clothes, low-waist jeans which Ma didn't approve of but Deuta thought were okay though I knew her demands added to some sort of wretchedness in his life… We just did not hear from her anymore, and she'd never receive calls.
When I was in Delhi, she sent me a birthday present. Just once. A lovely notebook of handmade paper, and a Parker pen.
Then, suddenly, during the final year of my M.A., she landed in Delhi one day and called me up. "Dhon, are you around?"
Nobody else would call me Dhon. Ma called me Dhunu. Deuta called me Dhonti – he'd never shorten my name, never soften his voice while calling me, however much he loved me. Chum Ba called me Kesuwa and, most of the time, it was shortened into Kesu. My existence shuttled between 'Kesuwa', meaning infant, and 'Kesu', earthworm, depending on her mood, depending on how much she loved me at that moment. But unlike me, Puna had only one name. I don't know if that pointed to anything. To his status of being the youngest, or that all the love was over, that all enthusiasm to be named with a name loved by the one who called out was extinguished.
Jun Ba was the only one who called me Dhon. Wealth.
"Yes! When did you land here? This is a Delhi number!" I tried to sound normal. I tried to sound as if we spoke everyday, that we were not speaking to each other after many years, after many, many days.
"I came on official work. This is my Delhi SIM-card. Just bought it today. Save it. Now I'll keep coming to Delhi." How could she sound so normal? Was she also trying to sound normal?
"That's wonderful. I'm coming to meet you. Where are you putting up?"
How much I had shuddered after saying that. She could refuse, I knew. Jun Ba, who would not receive any calls from home.
How many years had it been? She had planted a kodom tree in the plot of land that father bought in the village to build a school and plant orchids, a month before she slashed her wrists. We found her in the bathroom in a pool of blood. That kodom tree bore chrome yellow flowers this summer, for the first time. Almost five years. We thought she wouldn't live. But like all parents and brothers, we had thought maybe the doctors would say something soothing, calming. But even they disappointed us. "Serious case. Ki hoy kobo nuwarim."
We can't say anything.
We took her to the Railway Hospital in Maligaon. I think it was during the monsoons. It didn't rain. There was no traffic jam. Three in the morning. The morning-birds dropped from the trees they'd perched on for the night on the Guwahati University Road.
We didn't face any difficulty reaching the hospital and the junior doctors were cooperative. It could be because Jun Ba was a beautiful girl with large Bengali eyes not seen often among Assamese, and Deuta, who wore my jeans (which was the source of frequent discontent between me and him), looked younger than his age and smart, from a class which they all were trying to reach or be recognized as part of, and Ma wore a cream-colored nightie that Mukuta Mama got her from London ("Didn't you find anything else to get me in all of London?" she complained), which a middle-class mother from a 'respectable' family wouldn't wear out but an upper-class woman would. I spoke English in a British accent to show that I was smart too, that I was educated enough and exposed to the luxuries of life enough to speak in a British accent. So things worked. A less beautiful face, a sari, a loongi, and any other language wouldn't have worked. Wouldn't have streamlined the process.
Ma told me later that I'd screamed at the receptionist too. Where the fuck are the fucking doctors?
"How could you scream using such language in front of your father? I know it was a moment of life or death, but it shows the kind of language you usually use. Is that what you've learnt even after going to an English medium school?" But that was many weeks later. After Jun Ba was sent to Bombay. But "fuck" worked. "Fuck" in a British accent worked even better. They came running to us. We didn't face a lot of problems. But still, it couldn't have been worse. That night couldn't have been worse.
She had turned pale. But she looked absolutely at peace. And maybe because of that peaceful face I didn't want to disturb her in the coming years. Sometimes, when the urge was overwhelming, I called. She usually didn't reply. I was old enough to understand that she was running away from something horrific. Something she wanted to discard, forget and keep at bay. Something, the roots of which lay in the small family who fought over small things, or in the ancestral house from where she had come back, distraught.
Small things. We were small people so we couldn't fight over big things. We thought about small things, too – doing well in secondary school and college, earning marks, getting a job, earning enough money to travel to London or Los Angeles if not enough to live there. To reach that level, we fought over small things like bringing a telephone home and how much it would cost us each month. But we never thought twice before buying a book, however much it cost. We got four Assamese dailies, one national newspaper (The Telegraph, even though it came a day late), two weeklies (one Assamese, one English), one fortnightly literary magazine in Assamese and one monthly literary magazine. Even though we cut down on our consumption of cheese, meat, packed fish, Maggi, chocolate sauce, cocoa butter (to make face-packs and get Ma's lost pink hue back), sweets, sausages, packed juice (Jethai always thought fresh juice was safer, better, cheaper), tissue-paper ("What are gamusas woven for then? If Assamese don't use gamusas, who will?") – we didn't cut down on our luxurious reading habits. Those pages stored dreams for us. They assured us we were not alone. The Palmolive advertisement on the front page of the Assamese daily was not for us since none of us used that soap. It was for someone who used it, would like to use it. And yet they were similar to us, since they read the same daily, found dreams stored on its pages, were assured they were not alone.
We were smaller than people who didn't have a tin roof, didn't have an education, didn't have enough to eat and drink. And we didn't like to accept that. They could dream bigger dreams than us. They could go to libraries and read so much that they'd take apart the policies of the government and point fingers at loopholes. When they couldn't get themselves heard, they could take up arms. They didn't want to go to the States or the United Kingdom. They wanted to change their country. They thought of ways to make it better. Unlike us.
But Jun Ba didn't know about what was happening as much as Chum Ba. She was busy with parties and picnics with friends, or reading books when she was home. So she was unaware. And, perhaps because she was unaware, she went to see the plot of land her father had bought. The plot of land where Deuta wanted to build a house, plant orchids and lead a life away from wretchedness. She went to the village without telling us, to see the place where Chum Ba promised Deuta she'd build a hospital and live forever and marry a cowherd who'd come home and be happy with a meal of burnt fish, potato-mush and green chilies. I don't know if Deuta's melancholy face bothered Jun Ba. That he kept telling Ma his plans for Chum Ba. That he kept reading out Chum Ba's letters aloud to Ma after they thought we'd all slept. We never slept soundly after Chum Ba left.
Did Jun Ba feel jealous? Did she feel insecure? Did she think Deuta loved her less for being so different? A party-going girl who wanted only branded outfits and costly make-up – things that Chum Ba didn't ever demand.
But Jun Ba had always been like that. And Deuta never complained. When she was nine years old, she saw in a TV ad, a girl with nails painted in three different colors – yellow, green and black. She didn't eat. She didn't speak. Just cried, "Even I want yellow, green, black nail polish to paint my nails like a tiger." Deuta went out at four in the afternoon when he learnt that all efforts to console her would be answered with another broken showpiece in the drawing room. He set off on his Bajaj scooter to the market and came back at ten in the night with yellow, green and black nail polish bottles. She accepted them with three kisses on Deuta's cheeks and forehead, and inaugurated them by painting Deuta's fingernails in three different colors. She stayed awake all night and, by morning, she had finished the three bottles painting hideous designs on her nails.
So Deuta knew her. Though, as Ma says, he let her paint his nails without a single smile, without any encouraging gesture. He didn't like her demands but always fulfilled them despite Ma's protests. "We brought them to this world. We have to look after their demands."
Jun Ba didn't know much. Not that Chum Ba knew everything. She didn't know, for instance, that each time when we were sent to grandma's village, Deuta always called up Komol Da to ask if there was an army operation going on, if insurgents were troubling common people for food and shelter. Our grandma's village was an idyllic landscape of brooks, rivers, paddy fields, forests and nice people who lived happily with cows and dogs and cats and pigeons and without any sorrow.
I was in the eleventh standard when Deuta called me up from his office telling me to ask Komol Da or Jethai if "everything was fine," and I answered, "Whatever that means!"
We were planning to go there the next day.
"Don't be silly! Don't you know what's happening in the country? You are a grown-up boy now, so ask if everything is fine. This time, when you go there, ask your Jethai what it means."
I did ask. Certain things became clear. Hazy images of olive green dresses, my petrified cousins – even the one with whom I went to look at women bathing in the village stream – and Aaeni Khuri cooking duck-meat with a sad face.
That night she wept. "I thought I'd sell those ducks in the Sunday market and earn some money."
Jethai told her, "At least you are alive."
She didn't stop weeping. "Alive? Now some jealous person will inform the army and they'll soon come and drag us all to the camp. What do we know? Why do they come? Aren't we already independent from the white sahibs? Who wants to be more independent?"
When I asked, they just kept quiet. We were taken away by Deuta the next morning. He brought our car. The driver Biren was at the wheel – Deuta never learnt how to drive. The whole matter seemed pretty serious. Still, I told him, "Deuta, I'm yet to see so many places. Have to visit so many people. My vacation is not over. Why are you taking me home?" I got a loud "shut up" in reply.
But that month, the month when Jun Ba planted the kodom plant, the month when we took her to the Railway Hospital, there was no such enquiry. She just called Ma on her way saying she wanted to spend the weekend at 'Home'. Ma always referred to our ancestral house as 'Home'.
I now know why Deuta was worried. He kept asking, "What was she wearing today? Jeans? T-shirt?" He knew how visibly different Jun Ba would be in her urban dresses, with her threaded eyebrows and outlined, blue eye-shadowed eyes.
She came back the next day with Komol Da. No one knew what happened. And she wouldn't speak about what happened.
"We found her crying near the village stream."
She looked devastated. I slept beside her that night. Kept asking, "Jun Ba, what's wrong with you? Why are you crying?"
She wouldn't say anything. A month later, she slashed her wrists. When she was released from the hospital, she refused to speak to any counselor. For a long time, she was not released because she refused to say anything except, "I won't do this again." As if repeating the line from the undertaking she signed for the police officer.
We continued to take her to the counselor and one day she said, "I want to study law. Send me to Bangalore. Or Bombay. Or Madras. Anywhere."
She went to Bombay with Deuta. I came to Delhi alone for my admissions. We shifted from Jalukbari to Panjabari.
Ma didn't cry at all. Perhaps she didn't know whom to cry for.
Orchids were yet to bloom in the plot of land Deuta had bought. Now, the kodom tree she planted has grown up with a thick mane around it. It is greener than the other trees. Its wood softer than other wood. Its flowers like tennis balls with a soft coating of wool. Chrome-yellow flowers…
After about a year, Ma called, as she always did when something significant happened. "Dhunu, Chum came today."
Unexpected. She arrived without appointment like the wind, rain and hail. She arrived without taking permission, like bad dreams. Like Deuta's letter came to me eight months before I'd complete my M.A.
*
Jun Ba hugged me and kissed me on my cheeks. I felt awkward because of my stubble. Because I had rushed without changing my sweater. Because I hadn't taken a bath. Hadn't shaved. Hadn't changed my briefs which I'd been wearing since the day before.
"You have become so big!" she said. And she had become so thin and dark. She was badly suntanned, had dark circles around her eyes and I could no longer tease her, "Dhepi". Fatso.
At first, we talked of random things. Bad landlords in Delhi. Mughlai food at Karimz. The cheap beef at Majnu ka Tila. Chinese food in Kamla Nagar. Midnight traffic jams in Bombay. Public transport in Delhi. Good teachers and bad teachers. Bad classes and good classes. Classes that I bunked. We knew there was no point talking about all these things, but I don't know why we did. We shouldn't have.
Then I told her about Puna. He had been insignificant to both of us, actually. He was about seven years younger than me. He suddenly became important to me only when he started doing those strange things – taking off his clothes and running naked into the streets, waking up at midnight screaming, speaking to himself, counting guavas in the tree during the day and stars during the night so that Ma had to sit with him all night, afraid he might jump off the terrace.
"I didn't know all this!" Jun Ba's eyes filled with tears. "It's all my fault. I just wanted to forget everything. Be myself. Oh, I'm such a bad daughter! Such a bad sister!"
She wept. I didn't ask her what she was running away from.
Sometimes I felt Puna's birth was an accident. Unlike the three of us, he was too quiet. He never fared well and, whenever Deuta scolded him, he'd just keep quiet with a guilt-ridden face. So you couldn't go on shouting at him. For us, he was a baby and remained one. We didn't know when he walked out of the cradle, turned seventeen and went to the tallest building in Panjabari and jumped off it. We didn't expect that from him. He couldn't walk anymore. He had no sense of time or place or what to say.
"It has changed my life, hasn't it, Jun Ba?"
"I can't tell you anything. I shrugged off the duties of an elder sister for so long, I have no right to advise you now. It's your decision. But always remember – our parents have never asked us for anything. They have only given. Yes, you can say like all parents do. But we also know they are not like other parents."
Deuta? Not like other fathers? Who are you? Where are you from? He never asked the name, address, father's name, mother's name, designation of girls calling me up at home or guys who came home, called home to talk to and meet Jun Ba and Chum Ba. He was never harsh – except the day Chum Ba came back with a child in her lap because Brajen had left her for another woman.
"How could you say that Ma?" I demanded. "She was so helpless! How could you do that to her?"
"Not only because I'm always with your father, but because this isn't what we taught our children. We expected her at least to tell us." It was a different voice, a different tone – not my mother's. Suddenly she had introduced me, over the phone, to Mrs. Anupoma Dutta Devi, who had lost her pink hue long ago.
"You will get a monthly allowance and some land that you deserve from the property. That's all. You can do whatever you want with it."
Deuta's words. Written in stone.
How could he say that to the daughter to whom he was so close I imagined he'd write a letter to her when she eloped with Brajen?
How could he write such a letter to me? No addressal, no Dear Dhonti. Just a sudden chaotic, unconventional, addressal-less beginning. There was nothing else at the beginning of the letter except the paralyzing feeling which must have produced that letter. There was nothing else, except the paralyzing force that the letter meted out from itself so forcefully that it made no difference to me for a while whether it was intentional or unintentional.
This is not an order. This is a request, Dhonti.
Order. An order contained the possibilities of disobedience. A request was a hand outstretched. If you refuse, you will feel ashamed of yourself for the rest of your life.
Deuta's words. I couldn't believe those were his words on the letter. Bad handwriting. Like crow's legs.
When I called up, Ma just said, "Puna's misfortune has turned him mad."
I never imagined that it could happen. Initially I thought Puna's abnormal behavior – remaining silent, refusing to speak, getting startled by the slightest movement – was the aftershock of seeing a man being sieved by bullets right before his eyes in Chandmari one evening. We grew up amidst violence. We grew up reading about mutilated bodies. We are the generation for whom the previous one has left only blood. How could he not withstand that? Why?
He started behaving strangely after that. He didn't talk about the man who cried and screamed and howled like a goat, a cat, a dog, with red fountains spouting from his chest and stomach. But, by next morning, everyone knew that the famous surrendered militant, Ghono Bora, was killed in Panjabari Market by unidentified gunmen in broad daylight. Puna took the four dailies we subscribed to in his hand and howled and screamed and cried like a dog, a cat, a goat. It was then that Ma realized he must have seen something. She told Deuta, "No wonder he didn't eat anything last night."
He changed. Gradually. As slowly as the blossoming of a flower.
And, with him, Deuta changed too.
"He cries so often now. And pretty loudly. You would be surprised. In the last seven months, I haven't cried even once. I think your father has cried more than seventy times." She was laughing. "We have been married for nearly thirty years now. I had never seen him crying before, not even when your grandma died. Your kandura Deuta!" Kandura. A child who cries all the time.
After meeting Jun Ba, I was back in my room. Alone.
It was autumn break in Delhi University. The smell of eucalyptus flowers inundated the college campus. So strong, that you'd feel giddy if you went near the trees. But the flowers were so small, you could never see them. I was holding Deuta's letter.
"Come back home to Guwahati after you complete your studies next year. We need you here. I'm not scared of dying alone – that nobody will be here to give me a few drops of water in my mouth before I die – but I dread living alone till then. You have done so well. Maybe you can work here in Guwahati University or Cotton College. We need you."
Going back. Going back where?
I felt angry, but I also felt very small and calm because I knew that there was nothing unusual about what had happened to our family.
Before I left, Jun Ba had kissed me on my forehead and I wondered when she had become so motherly. As if she has gone through the pain of childbirth. Mothers are like that, always – they kiss your forehead and calm you down. "Good or bad, violent or peaceful, we love Assam, don't we Dhon?" New clothes during Bihu. The sweet dishes of Puja. Strolls on the banks of Brahmaputra. And a house surrounded by honking geese and orchids.
As I was walking towards the road, she had called out, "Dhon! We can have dinner together once again tomorrow. Shall we?"
"Sure. See you at seven?"
"Right. That sounds good. Seven in the evening, pakka na?"
Before parting, we just extracted a small, insignificant promise from each other.